By Jim Newell
Review Writer
For active-duty military men and women and their loved ones at home, just getting a phone call can make the difference in the trying times when they are separated by military duty.
On Friday, Lake Orion High School students will help bridge that gap by establishing a connection between soldiers and their families with the schools third annual Cell Out for Soldiers fundraiser.
Students will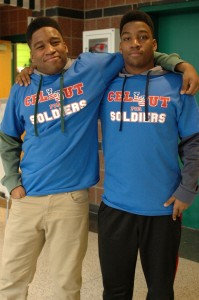 voluntarily – yes, voluntarily – give up their phones for the day to help raise funds and awareness for Cell Phones for Soldiers.
"We give a dollar for every phone we collect to the charity," said Lori Hogan, Leadership teacher at the high school. "Last year we donated just over $3,000, and this we hope to top that."
The fundraiser is planned, organized and administered by the student Leadership class at the high school.
"Cell Out is just so unique because no one else is doing this," Hogan said. "We're the only ones in the country."
Cell Phones for Soldiers is a national nonprofit providing troops and veterans with free communication services and funding. It was founded in 2004 by teenage siblings Robbie and Brittany Bergquist.
There are two programs within Cell Phones for Soldiers: Helping Heroes Homes and Minutes that Matter, which provides free calling cards to active military personnel so that they can call loved ones.
Lake Orion High School donates to Minutes that Matter.
A $5 donation warrants 2.5 hours of talk time, while a $100 donation gives 50 hours of talk time to soldier.
"And we get a lot of community donations," Hogan said, adding that some parents ask to match the student donations. "Any donations you want to make, we're willing to take."
This is the third year of the fundraiser and the students get a blue Cell Out for Soldiers t-shirt. The two previous years, the shirts have been red and white. A student who is a junior this year will be able to participate in the first four years of the fundraiser, collecting all the American colors plus a shirt color to be determined for next year's event.
Hogan said that students want camouflage shirts next year; however, the camouflage shirts are more expensive and she and co-Leadership advisor Amy Redman can't justify spending the extra money when the purpose is to raise every dollar possible for charity.
"Our sponsors have been wonderful and very supportive," Hogan said. "We couldn't do it without them and it's all local, which I think is great."
"Each year we've raised more money, we've never dropped," said Amy Redman, co-Leadership advisor at the high school.
In 2015, 80 percent of the high school students participated in Cell Out, and 82 percent participated last year. This year the goal is 85 percent participation, Redman said.
But there is an added benefit to the kids giving up their phones: instead of texting, they're talking.
"The joy in watching the kids because they don't have their phones" is what Redman said she enjoys most about the day.
"It's the loudest day," Redman said. "It forces them to socialize, to talk to people – and they act like teenagers."
The greatest challenge for the Leadership class is the logistics of the fundraiser, Hogan said.
Sixty students will begin collecting cell phones and tablets at 7 a.m. Friday morning. When a student turns in their phone, it goes into a plastic bubble bag with a receipt so the student can get it back at the end of the day.
The student then takes a copy of the receipt to the t-shirt stand to get a free Cell Out for Soldiers shirt to wear.
But for the Leadership class, the sorting madness is just beginning. When collecting the phones in the morning, the Leadership students put the phones in plastic bins. They then must sort each phone into boxes marked with the names of the students last-hour teacher that day.
The boxes are delivered to the teachers' classrooms so the students can collect their phones before heading home.
"We have to be logistically sound," Hogan said. "Every phone is secure, every phone is safe and every student gets their phone back at the end of the day."
The money for shirts and cell phone bags comes from the Leadership, which is not funded through the school. Ticket sales from school dances are their biggest source of revenue, and donations and other fundraisers throughout the year help with the Leadership events.
The cell phone bags alone cost $350 – a good deal, Hogan said.
For more information, visit cellphonesforsoldiers.com.
This year's sponsors are Beaumont Health, Blake Ward – Diamond Residential Mortgage Corp., BW3-Lake Orion, Canoe Circle Graphics, Orion Twp. Supervisor Chris Barnett, Cracked Electronic Repair, Culvers – Joe Zimmer, Detroit Burger Bar, Erica West – Lula Roe, Flip Spot Gymnastics and Cheer, Gable Manufacturing, Graig Adamski – EnG Design, Green Light Graphics, Holistic Health by Valerie, King of Kings Lutheran Church of Lake Orion, Lake Orion Education Association, Lake Orion Plumbing, Heating and Cooling, Liberty Way Realty, McLaren Oakland, Northern Flooring and Interiors, Oakland Sports Chiropractic, Performance Line Tool Center, Sprint of Lake Orion and Waste Management.