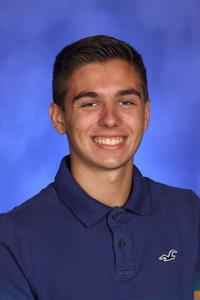 Parents: Samantha and Norman Barbieri
Grade: 12
GPA: 3.77
Favorite subject(s): Government, History, Leadership
Extracurricular activities: Volunteer work, leadership events and Paint Up for football games.
Hobbies/Interests: Sports are a big interest of mine, along with government/politics.
Plans after graduation: I plan to attend Michigan State University.
Nathan is proudest of: My success in both school and work.
Nathan makes a contribution by: I contribute to cancer charities including St. Judes, and spend time working around the community through different programs.
Where Nathan sees himself in 10-20 years: Graduated from college and being elected to Congress.
What concerns Nathan in the world: Deadly illnesses, like cancer around the world.
Favorite thing about Lake Orion High School: I love the positive atmosphere among all sports at Lake Orion.
Recommending Teacher: Mrs. Hogan