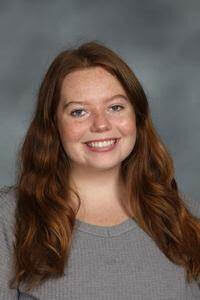 Parents: Melissa Cario and John Carico
Grade: 12
GPA: 4.250
Favorite subject(s): English and History
Extracurricular activities: Forensics, Knitting Club, lacrosse and S.O.S.
Hobbies/Interests: Reading, writing, poetry, knitting and making jewlery
Plans after graduation: Go to Northern Michigan University and study English.
Madison makes a contribution by: I always pick up trash when I see it.
Where Madison sees herself in 10-20 years: Living in a cabin in the woods writing epic novels.
What concerns Madison in the world: The political divide of our country.
Favorite thing about Lake Orion High School: The large range of classes, I could always find a class I would be interested in taking.
Recommending Teacher: Frau Kokotovich