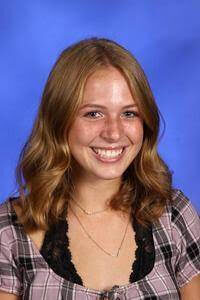 Parents: Ryan and Lori Giacolone
Grade: 12
GPA: 4.0
Favorite subject(s): Biology and Chemistry
Extracurricular activities: I love to paint and also play lacrosse.
Hobbies/Interests: I am on the varsity lacrosse team and I also paint shoes and sell them to customers.
Plans after graduation: I plan to work and take classes and then eventually go to dental school to become a general dentist.
Audrey is proudest of: The person who I have become throughout the past couple of years.
Audrey makes a contribution by: I contribute at my job. I am a caregiver at an assisted living facility, and I feel as through I impact the lives of the residents and my coworkers by being a caring employee.
Where Audrey sees herself in 10-20 years: I see myself as a dentist and having a family, hopefully living somewhere warm.
What concerns Audrey in the world: The division of people especially during a hard time like this is very concerning to me. I feel as though people should be coming together rather than pushing people away.
Favorite thing about Lake Orion High School: I love the activities and things we do and the effort the school puts in to make sure everyone is included all of the time.
Recommending Teacher: Mrs. Bendle