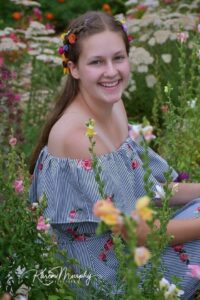 Parents: Dawn Pordon and Terry Pordon
Grade: 12
GPA: 3.95
Favorite subject(s): I like math a lot because there's always a solution!
Extracurricular activities: I take part in choir. I'm a choir officer, librarian and I take part in the extra choirs outside of class! I also do theatre and take part in each show!
Hobbies/Interests: I do a lot of drawing and painting! I also have played piano for almost 13 years now!
Plans after graduation: I hope to go to Western Michigan University and pursue graphic design!
Amy is proudest of: Recently, I got into All-state honors choir! Only 100 people from around the state get selected.
Amy makes a contribution by: I do a lot of volunteering and service projects. I also have constantly offered and helped various teachers and other students throughout the years!
Where Amy sees herself in 10-20 years: With an enjoyable job, a nice living arrangement, and hopefully ready to start a family!
What concerns Amy in the world: Global warming is concerning
Favorite thing about Lake Orion High School: I love how many opportunities are given to us students! The amount of clubs, extracurriculars and electives we can choose is incredible!
Recommending Teacher: Mr. Smith, the choir director.