Lady Dragons end the season at 20-6
By Megan Kelley
Review Writer
LAKE ORION — Lake Orion High School's varsity girls basketball team hosted and competed in the MHSAA Region 2 tournament last week with the Dragons defeating Howell High School 47-44 in the regional semi-finals.
The Lady Dragons season ended with a 48-30 loss to West Bloomfield High School in the regional finals on Friday.
Lake Orion vs. Howell
On March 7, the Dragons took on the Howell High School Highlanders, coming away with a close three-point win.
Lake Orion and Howell had similar records this season, with Lake Orion boasting a 19-5 overall record for the season, just ahead of the Highlanders' 18-6 record.
Ahead of the game, Lake Orion head coach Bob Brydges predicted a close match-up.
"Playing Howell is going to be like playing ourselves. They're athletic, they're quick, they're not big, they don't have a ton of height. So, I actually think it's going to be a great match-up. We put together what I think is a pretty good game plan; now it's about who executes it better on Tuesday," Brydges said. "I think both teams have a chance to win that game."
Howell was the first to score off the jump, with Lake Orion quickly responding with a three-point shot of their own and it was off to the races for both teams.
It was clear from the start that Howell's defensive strategy relied heavily on keeping Lake Orion from hitting threes, the way the Dragons had in the district final match-up against Clarkston High School when the Dragons drained 13 three-point shots.
The first half was tough on the Dragons, with players missing easy shots and committing a few simple mistakes that allowed the Highlanders to take the lead.
Despite their nerves being up, Lake Orion managed to stay in it in the game, only trailing Howell by a couple of points throughout the first half. A three-point buzzer shot at the half by Taylor Dinda tied the game 24-24 heading into the locker room.
"I think we got nervous early, especially. I think we were down five or six at one point and we missed a couple of easy shots. I think it was just nerves. Once they got over that, we kind of settled in, started playing really tough D (defense) and the shot by Taylor Dinda at the half – holy crap. I mean that was amazing," Brydges said. "They bring it up the floor, kick it to Taylor with no time left on the clock, she drills a three to tie it up. I think when we went into half time, tied at 24 – how shocking that her number is also 24, by the way – I think our kids went to the locker room thinking, 'You know, we didn't even play a great half and here we are, we're still tied.'"
The third quarter saw a lot of back and forth scoring but also brought with it an abundance of fouls with both Lake Orion and Howell finding several of their players in foul trouble. The third quarter ended with the Dragons just one point behind Howell at 36-35 and at least one Lake Orion player, senior Audrey Wischmeyer, a leading scorer in the game against Clarkston, with only one foul left before fouling out.
The Dragons went into the fourth quarter ready to fight for a win. The fouls continued to rain down with each team being sent to the free throw line several times, tying the score at 40-40 with less than three minutes left.
A Howell foul behind the three-point line on Lake Orion senior Maddie Ebbert just before the two-minute mark gave the Dragons an opportunity to take the lead. Ebbert, who has consistently proven herself to be a dependable shooter at the free throw line, drained all three shots to put Lake Orion ahead of Howell, 43-40.
With less than two minutes left, both teams dropped a couple last minute buckets but Howell was unable to make up for Ebbert's free throw points.
At the final buzzer, Lake Orion won 47-44, the first regional win by the LOHS girls basketball team since 2009, a testament to the team and their hard work, not just throughout this season, but over the past four years.
"These kids have worked so hard over these past four years, especially the seniors, to continually build. Each year we've gone a little further. Two years ago, we win a league (title) and lose in our first round at districts. Last year, we finally win a district game and then we win a district championship, lose in the regional semi-final. This year, we won our district again and won a regional semi-final game," Brydges said.
"They just keep putting new things out in front of them and continuing to achieve newer heights. That's all you can ask from a team – to continue to build on what they've done previously. And this group has done that. It's been fantastic. I'm going to miss the seniors but I've got some pieces coming back next year and we'll just keep trying to build this program and see if we can't continue this success year after year. You're going to have moments where you take a step back but, hopefully, we will continue to play at a high level for years to come."
Leading contributors for the Dragons were senior captains Ebbert with 19 points, three assists and three rebounds, Chloe Wiegers with 11 points and four steals, Dinda with 11 points, six rebounds and three assists, and Kylie Heck with one point and two assists.
Also adding to the winning effort were seniors Wischmeyer with three points and Ryann Pawlaczyk with two points.
Lake Orion vs. West Bloomfield
The more daunting game of the regional tournament came on Thursday night when the Dragons took on the West Bloomfield Lakers in the regional finals.
Headed into the game, West Bloomfield was touting an impressive list of achievements. The Lakers were last year's state champions and were undefeated this year in the OAA Red division.
Because the Lakers had also defeated Lake Orion twice in the regular season by 40 points each time (60-20 and 82-42), the Dragons were immediately labeled the underdogs for the night. This didn't deter the team or Brydges, though.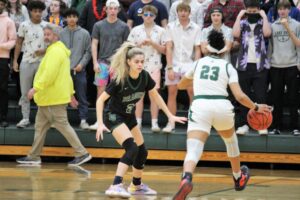 "You know what, it's one game. Anything can happen in one game. Maybe they don't make enough shots and maybe we make everything. There have been plenty of stories in the past from all levels of basketball where the team that is not expected to win ends up winning," Brydges said ahead of the game Thursday night. "Everyone is picking West Bloomfield, great. I don't mind being the underdog in that game."
The first quarter saw a big shift in tempo from the Dragons, who kept pace with the larger and faster West Bloomfield team. At the final buzzer of the first quarter, Lake Orion found themselves in a unique position, leading the Lakers 19-18.
The Lakers cranked up the heat in the second quarter, keeping the Dragons from scoring any points and putting themselves up 30-19 at the end of the first half.
In the second half, Lake Orion managed to drop a few more points but were unable to catch up to the Lakers.
At the final buzzer, West Bloomfield had punched their return ticket to the state tournament by defeating the Dragons 48-30.
Leading scorers for the Dragons were Wischmeyer with 12 points, Heck with six points, Wiegers with five points, Ebbert with four points and Rocio Garcia with three points. Dinda contributed six rebounds and three assists.
Despite the loss, Brydges was proud with the way the Dragons played against the West Bloomfield powerhouse team.
"I think if we had a better second quarter, we might have been able to stay with them a little longer," Brydges said. "We had the lead after the first (quarter) and we didn't score in the second quarter. Overall, I was pleased with the way we played. I thought we did a good job slowing them down, making them work for their points. I was told after the game that that was the least amount of points they had scored all season. Listen, we've been beat by them by 40 twice, last night we lose by 18. I'm not happy about losing but we actually played a lot better than we had previously."
Brydges attributes the Dragon defense, which rotated between zone and man-to-man coverage, to slowing down the Lakers more this game compared to previous games this season. Lake Orion's defensive troubles this time around was due more to the team's rebounding.
"I have a couple of kids that do a great job of boxing out and rebounding but overall, as a team, because we're not a ton of post players we don't typically get five box-outs and that's what you have to do against that team," Brydges said.
With other losses this season it might have been easy to pinpoint why Lake Orion lost and how the Dragons could have made changes to avoid it. With West Bloomfield, it's relatively simple: the Lakers are just a good team.
"That's just a really good team. They're very good. They've been killing everybody. So, for us to play as hard as we did against those (girls), I was pleased with the way we played them and obviously you always want to win but if you're going to go out, at least go out playing tough, and we did," Brydges said. "We just keep working from here but I was really proud of the kids. They gave me everything they had, they left it all on the floor. And honestly, we played West Bloomfield about as good as I think anyone is going to play West Bloomfield."
Perhaps the hardest part of the season coming to a close is Brydges having to say goodbye to nine seniors, several of whom have been three or even four-year varsity players.
"This senior group has constantly done things that this program hadn't done in a long time. It really helped put us back, probably, where we belong as far as a basketball program," Brydges said.
Four years ago, Brydges inherited a program that was in the OAA Blue division and in those four years, has managed to do an almost complete overhaul and not only get the team into the Red division, but also earn Lake Orion second place in the Red during its first year in that division.
Brydges credits much of the recent prosperity in LOCS K-8 girls basketball program to the success of the varsity team.
"This senior class has really done a great job of reaching out to these younger levels…every level of program that those high school girls have been in contact with all were out there. There were so many kids in the stands and they were excited to see these kids (varsity players). They have bought into what these girls are trying to do and these girls have become their role models. That's why we do these programs. That's why we want those programs to be in place because I want these young kids to say, 'Hey, I'm going to be the next Taylor Dinda', 'I'm going to be the next Maddie Ebbert,'" Brydges said. "Whatever it happens to be, we want them to have that opportunity."
The Lake Orion ladies finish out the season 20-6 overall and second place in the OAA Red division (10-4).
Looking toward next season, Brydges expects a tough road with the loss of all five starters and a majority of the team's depth.
"We're losing six or seven kids that have played three-plus years of varsity basketball. I do have some kids coming back that I think will help. But if we walk into a situation next year where we are in this exact same spot, it's because of the work that these kids put in over the summer," Brydges said. "These kids have added so much to this program and even the kids in our program look up to them. So, replacing them is going to be tough. Can it be done? Maybe, but it's going to be a ton of work over the summer."
For now, Brydges and his team are happy to have been able to represent Lake Orion the way they did this season.
"This team has accomplished a lot, not only for themselves but for this community. I mean, look at how many kids were in the stands. Not just little kids, but look at the student body. It was alive, and wow! There were times where you couldn't hear a thing on that floor," Brydges said. "I will forever be grateful for this senior class to have helped us get to where we were at this year and really give us something to strive for in years to come."