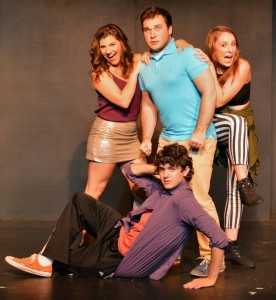 By Chris Hagan
Review Staff Writer
This Friday a new musical debuts at a Waterford performance theater, and one of Lake Orion's own will be performing under the ranks as a professional.
Owen Woityra, a 2016 Lake Orion graduate, has performed more than 30 times on stage, but for the first time he'll be earning a paycheck for doing what he loves.
Woityra, 18, plays the role of Jeff Bowen, a composer struggling to write a musical in the upcoming musical [title of show].
Hosted at the Monster Box Theatre in Waterford, [title of show] chronicles its own creation as an entry in the New York Musical Theatre Festival, through its off-Broadway success. It follows the struggles of the author, composer/lyricist, and their two actress friends during the initial creative period and subsequent events leading up to the show's production.
"The show itself is different than anything I've ever done before. It's a cast of only four people, and it's a bit different in the fact that it's about the actual show being written, so it's like two people writing a musical inside a musical," Woityra said.
Director Paul Stark brought back some of the theatre's veteran actors, including Woityra, Taylor Stark as Susan Blackwell, Theodora Pardales as Heidi Blickenstaff, and new to Monster Box, Jono Mammel as Hunter Bell.
"We are trying to be the premier place in Oakland County and Metro Detroit to see live, professional theater," Stark said. "Original work and less common productions, in an effort to bring new and vital art to the area, sprinkled with an occasional popular show, are what we like to do here. We are willing to step outside of the box."
Woityra, who plans on attending Northwestern University in the fall, says this musical is the most challenging production he's ever been a part of, given the show's style of comedy.
But Woityra says he's anxious to get on the stage because it's the act of performing that he enjoys the most.
"You never know what you're going to get. Each new show you do you have a completely different role, you have a different director, you work with different people, and you get a lot of different people," he said. "Each night you're performing for a new audience who will laugh at different parts and it's never the same."
[title of show] opens Friday, Aug. 19 and runs through Aug. 27. For ticket prices and information, visit monsterboxtheatre.com or call 248-787-1400. The theatre is at 2529 Elizabeth Lake Road in Waterford.