2018 Lake Orion graduate Colleen Campbell was named Atlantic 10 track and field performer of the week last week.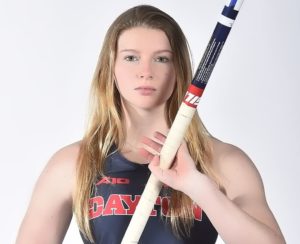 This is the second time this year Campbell has been chosen for this honor.
Campbell, a college freshman at the University of Dayton, pole vaulted a career best of 12 feet 7 1/2 inches at a meet at Vanderbilt University on March 22.
Campbell currently still holds the LOHS school pole vault record at 12 feet 2 inches. She is pursuing a business degree at the University of Dayton. – M.K.