By Jim Newell
Review Editor
CLARKSTON — The Lake Orion girls and boys cross country teams finished in fifth place at the OAA Red Cross Country Championship on Thursday.
Dragon sophomore Blake Peardon was eighth overall for the boys in the 5K race at Clintonwood Park in Clarkston, finishing in 16:30.6 minutes, 35 seconds behind first place Henry Poploskie of Clarkston.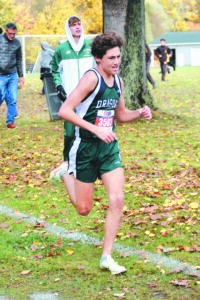 Sophomore Addison Verlinden was the top runner for the Lake Orion girls team, finishing 19th overall, finishing in 20:20.5 minutes.
Both teams will next compete in the Michigan High School Athletic Association Lower Peninsula Division 1, Region 8-1 on Saturday at Hess Hathaway Park in Waterford Township.
Lake Orion Girls Cross Country
Freshmen Nadia Fedorinchik finished 20th (20:21.6) and Elizabeth Crawford finished 21st (20:33.4) for the Dragons. Junior Maddie Feurig was 27th (20:44) and senior Annika Russell rounded out the Dragons' top five with a 32nd place finish (21:06.5).
The Oxford girls have been dominant in the OAA Red for the past two years, continually placing multiple runners in the top 10 finishers.
Oxford finished with a score of 33, easily beating second place Troy with 60 points.
Clarkston was third with 71 points, Rochester Adams was fourth with 81 points, Lake Orion was fifth with 117 points and Birmingham Seaholm finished sixth at 163.
Lake Orion Boys Cross Country
Clarkston won the OAA Red Cross Country Championship with 31 points, with the Oxford Wildcats taking second place, edging out Troy High School in a tiebreaker. Both teams finished with 64 points.
Rochester Adams was fourth, 90 points; Lake Orion was fifth, 94 points; and Birmingham Seaholm finished last with 164 points.
Sophomore Raymond Lucero II was 13th for the Dragons, finishing in 16:39.5.
Seniors Horacio Lopez (17:08.8) and Eddie Cromwell (17:13.3) were 22nd and 23rd, respectively.
Freshman Max Houvener was the Dragons' fifth runner, finishing 28th at 17:29.3 minutes.