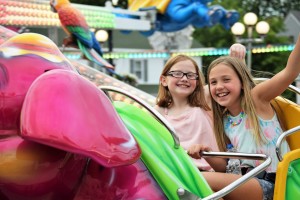 By Jim Newell
Review Editor
The aroma of elephant ears and kettle corn wafting in the air, the screams of the young and old alike as the Pirates of the Seven Seas ship first ascends and then plunges, leaving that empty pit feeling in your stomach.
The ding of game bells and the "awes" of children as the gaze upon the cotton candy. Fireworks. An entertainment tent for adults.
Ah, pure summer jubilation in downtown Lake Orion.
It's that time of year when the carnival rolls into town for the Lake Orion Lions Club annual Jubilee fundraiser.
"Come down, bring your kids down and let them have a good time," said Lions Club member Bob Erickson, co-chair of this year's carnival events. "It's fun and we're doing a lot of good. We're helping a lot of people. That's the main purpose."
Proceeds from the carnival and activities support the Lions Club programs. "Pretty much everything we do, all the money we raise stays right here in the community," Erickson said.
Like last year, the Skerbeck Entertainment Group Carnival will run from Thursday through Sunday and have carnival rides and games, sweet and salty treats and more.
"It is the cleanest carnival you'll ever see. Wonderful company. They're just wonderful to work with," said Bob Erickson, co-chair of this year's carnival.
Wristbands
Advance sale discounted wristbands for a $2 discount are available online through noon on June 21, at www.lakeorionlions.org, under the "Events" tab, or at https://skerbeck.com/events/219.
Wristbands are good, per day, all day Thursday, Friday and Sunday and noon – 5 p.m. on Saturday (then tickets only).
Beer Tent
There will be music in the beer tent each night, with a DJ on Thursday and live music by the band CJ's on Friday and Scotty Doesn't Know on Saturday.
Beer tent hours are 5-11 p.m. on Thursday, 4 p.m. – 12:30 a.m. on Friday and noon – 12:30 a.m. on Saturday.
Fireworks
The Lions Club fireworks show over Lake Orion, presented by Ace Pyro, begins shortly after dusk on Saturday, around 10 p.m. Fireworks will be on Sunday if it rains on Saturday.
"This year is the biggest fireworks show we've ever had," Erickson said. "We open the back flap of the beer tent, so it's really a great spot to watch them from. People just love to stand out there and, of course, there's music playing."
Big Wheel Race
The biggest little races in Orion can show off their speedway skills at The Big Wheel Race. The race, for kids ages 4-8, is Saturday at noon in the Anderson Street parking lot next to Children's Park. All children must bring and wear a bike helmet. Big wheels are provided.
Prizes for all first, second and third place winners is a trophy and a wristband for the Jubilee, good for all rides from noon – 5 p.m. on Saturday.
Check-in/registration begins an hour before the races.
Street closings
Broadway Street, from Shadbolt to Front Street, and Flint Street, from Anderson Street (south of Flint Street) to Lapeer Street, will be closed from the morning of June 20 through the night of June 24. The parking lots on Anderson Street are also closed for rides and activities.
Lions Club
The Lions Club will have their Project Kidsight trailer at the carnival, with free eye screenings for children six-months-old and older.
The focus of the Lions Club is helping the visually and hearing-impaired people in the community who need help, Erickson said. The Lions also help families in need with the annual Christmas Basket program, support Leader Dog for the Blind and local charitable efforts.
To donate to the Lions Club Fireworks Fund, the Lions Club community projects or for information on membership and volunteer opportunities, visit www.lakeorionlions.org.