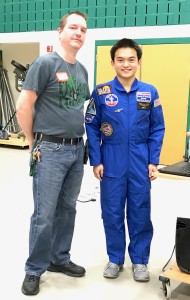 By Susan Carroll
Review Writer
Oliver Yu is a junior at Lake Orion High School and aspiring astronaut and he is setting the groundwork for that dream to come true.
He spent six days in Huntsville, Alabama last summer at Space Camp. Huntsville is where America's space program originated.
"My favorite thing was being around the people, being around students from 22 different countries. I was the only American in my dorm. It was six days long and I wish it were forever," said Oliver.
To be accepted into the program, students needed to be well-rounded, have motivation and drive, plus good academics and an interest in science outside of a normal school program.
Oliver sailed through the application process, possessing all the skills, drive and talent Space Camp was looking for and was accepted into the program.
Last month's live NASA broadcast at Oakland Community College was "mind blowing" for Oliver. Being able to speak with astronauts while they were at the International Space Station was an experience that will help him in his quest to someday travel into space himself.
A space station mock module was part of his experience at Space Camp, so when the astronauts were live, Oliver said that the module they were in seemed very familiar to him.
He also experienced neutral buoyancy while SCUBA diving in the Underwater Astronaut Trainer. This training mimics the zero-gravity environment that's in space.
Oliver is planning for his career focus to be in science.
"I don't expect anything other than that and hopefully I'll work in physics. I am making a very important goal for myself; I do not want a stationary job in the near future. If I get to travel the world, I would like that," he said.
"One of the reasons I aspire to go into space is because of the comments from astronauts about how special it is, plus the videos and pictures of it are very interesting to me. I stargaze about three times a week and I get the perspective of how it is from Earth, but I want to get that perspective from where they are getting it from," Oliver said.
The college goals of the aspiring astronaut have been something he has been planning and thinking about since he was a freshman. His original plan was to attend the U.S. Air Force Academy or U.S. Coast Guard Academy.
"Then my mom brought up that I should have a back-up plan because the service academies of the U.S. are very rigorous and very prestigious institutions, and having a back-up plan is always a good thing to do."
The back-up plan is still in the works, but this summer Oliver will be at Oakland University on an internship as a research student.
As a junior in high school, his days are filled with schoolwork, he is on the Liquid Lightning swim team and has been on the boys' varsity swim and dive team for three years.
When not involved in school activities, he works on his five current research projects at home, each one destined for a different goal.
"My friends are playing Fortnite and I am working on my projects. I find them to be just as fun," said Oliver.
He has been working on his biggest science project since 2015, Project Habitat, and the goal is "to relieve malnutrition and hunger in our homeland and abroad to other countries."
"The initial idea behind this is that Earth isn't going to get any bigger but our human population is growing super-fast right now. There isn't as much research as I would like to go into this field. I do feel that if something isn't done right now for starving people, there are only going to be more of them in the future.
"Project Habitat is designed to hopefully alleviate and take off the majority of those stresses because research does show as of right now, that in most nutritionally distressed areas, also are financially distressed areas. If you could take the stresses of what your kids are going to be eating tonight from mom and dad then they can start investing in their own career paths. That way it could lead to overall improvement in development not just in the United States but in every country," Oliver said.
He is also working on Project Interstellar, inspired by the Mars Generation. It is a non-profit international organization that advocates for space exploration among students.
Part of the project requirement is that Oliver travels to libraries, schools and gatherings to talk to parents, kids and teachers about the importance of taking kids to museums.
His most recent project is Project Mercury. The goal is to accelerate the time it takes to process sexual assault evidence kits.
"It takes about a year, more or less. I am very worried about that because if I was a victim of sexual assault and went to law enforcement and confronted them about it, I would want to have some closure, a timely closure. But for most victims of sexual assault right now that is not necessarily the case and they have to wait extremely long lengths of time," said Oliver.
And if he does become a NASA astronaut he wants to be a flight engineer, research scientist but not a commander.
" I don't think I would like to go up to that yet," said Oliver.