By Megan Kelley
Review Writer
LAKE ORION — As summer nears, students everywhere are rejoicing their looming freedom from tests and assignments, but for others, like 18-year-old Brianna Johnston, the work has just begun as she prepares to leave Michigan behind and head off to the U.S. Naval Academy in Annapolis, Maryland.
Johnston is a Lake Orion resident who attends the International Academy in Bloomfield Hills. She's a member of the school's rowing team and is an accomplished flutist, who is also learning piano and piccolo.
When it came time to start to think about her future after high school, Johnston had always thought she would do what most people her age do, attend a college or university.
As the child of a U.S. Naval officer, attending a military academy was not really something that was on her radar until her junior year when her father brought it up as a possibility.
"It hadn't really occurred to me until then that I could go, that it was something I could do, because I was always prompted not to do it. As a woman, it was going to be a lot harder for me to accomplish those things," Johnston said. "I think my parents wanted me to be successful in a civilian school so they didn't really mention anything to do with the military academy's until early in my junior year. From there, I just sort of took it upon myself to say, 'This is what I want to do. This is something I'm interested in.'"
Part of making the decision to apply included spending time at the academy for Summer Seminar, where highschoolers from across the country can visit for five or six days to get a taste of what it is like to be a midshipman at the U.S. Naval Academy.
"You get to experience a snapshot of life as a midshipman, even if you're accepted or rejected. Luckily, I was accepted into that program. You have to have actual pre-screening done so if you don't go to Summer Seminar, you don't apply, what you do is you send in a preliminary application with just some details about you and then that credits whether or not you are actually a worthy candidate or a candidate they're looking for and then that's when you application process starts," Johnston said.
After deciding that it was something she wanted to pursue, Johnston started to work on her application, writing her essays and getting her SAT scores turned in. After that, she had her medical screening done and completed her CFA (Candidate Fitness Assessment).
Completing the CFA was where Johnston first hit a bump in the road, but it only made her want it more.
"I wasn't physically fit enough in the beginning. I could barely do a push up off my knees but then in maybe six months or less of work I was able to do maybe 40 pushups in two minutes or less," said Johnston. "You need to put in the work if you really want it and you have to be willing to do that work."
Additionally, Johnston had to go through an interview process with Blue and Gold Officers and receive nominations from either her senator or representative.
Johnston received nominations from both U.S. Representative Elissa Slotkin and U.S. Senator Debbie Stabenow.
"As someone who has worked alongside the military for my entire career, nominating the young men and women of our district who have chosen to take a big step forward in service to this nation is one of my favorite nights of the year. Reflecting the years of effort these students have put into preparing for this opportunity, my office takes service nominations very seriously, and it's a true privilege to send them off," Slotkin said about her nominations.
Johnston is set to head to Maryland in June with Plebe Summer starting almost immediately after arrival. From there, she's excited to experience everything she can.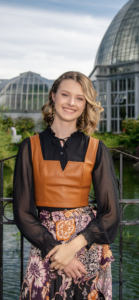 "I've been told my twenties are probably going to be the best time of my life because some of the things that you get to do every summer are absolutely insane," Johnston said. "I know, of course, my first summer is going to be Plebe Summer so it might not be as fun because it's going to be really intensive and for me and for anyone else going. But after that you get your summer's chunked into like three sections I believe; one of them is leadership building activities, the other one is your time off, so you get to go home, and then I think another one is a different experience – I've heard things like going to Alaska and doing survival stuff to going to experience what the camp with marines is like."
In time, Johnston hopes to study mechanical engineering but keeps an open mind. She also hopes to become a pilot and fly jets for the U.S. Navy.
Over her long journey, Johnston has taken opportunities to be an inspiration to girls her age, hoping to show them what they can achieve if they put their minds to it and work hard.
"I also did rowing for a long time and there's this dynamic on my rowing team where the younger girls often get overlooked because they're not strong enough to be on first varsity yet and the teams often focuses on their first varsity or second varsity both quite a bit. As one of the sort of weaker and older rowers at the time, I took it upon myself to look after those girls. I think, once I started to struggle quite a bit, I sort of realized that if I can prove that I can get into somewhere like this, like a military institution, and really work hard for it, that that would be inspiring to these other girls and also to anyone in my community," said Johnston. "I may be going to the International Academy, but my home high school is Lake Orion."
Through the process of applying and eventually being accepted to the U.S. Naval Academy, Johnston has received support from not just her family, but from teachers as well.
Even before she had thought about applying to the Naval Academy, she received support from her eighth grade English Language Arts teacher from Oakview Middle School, Ms. Morgan, who she says put her on track to being the person she is today.
"One of my biggest impacts when I first moved here – because I had lived in England previously for almost seven years, then when I moved back – I was in Michigan for my eighth grade year before continuing on to high school. I attended Oakview Middle School and I remember at lunch, all these kids were getting up to go and do a meeting or something about the IB (International Baccalaureate) program and I hadn't been told anything about it. So, I didn't go with those kids to that meeting which means I didn't get entered into the lottery to get into my current school," Johnston said. "Ms. Morgan, my literature teacher in eighth grade, I remember she told me that she had already talked to my counselor and I needed to be in this school because she thought I was a promising student. I think that without her I wouldn't be where I am right now because it was her looking out for me and getting the counselors to look into more about it that actually got me into the school I'm in now."
One of Johnston's biggest pieces of advice for those interested in working toward attending any sort of Military Academy is to make sure you have the support to get you through the difficult process.
"Make sure you have the support to go through the system. I definitely had support from Ms. Morgan, but also from my parents and also my letters of recommendations from Mrs. Hestler and Mr. Kreuger here and all my other teachers. I had my biology teacher from last year, and as soon as she heard about me missing a few classes for Summer Seminar, because I had to take my exams early for that, she was always trying to stay updated with me. When I finally told her about my appointment, we were both really excited. So, it's not just you that has to go through the process alone, it's like everyone around you kind of gets involved in some way," Johnston said.