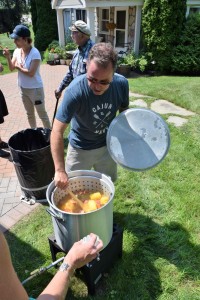 Seafood Festival raised funds for children's hospital
By Jim Newell
Review Editor
The Lake Orion Sunrise Rotary Club hosted a double dose of events on Aug. 4 with the return of the Duathlon in the morning and the 2nd annual Cajun Seafood Festival that afternoon.
"It's a fun-filled day of activities that benefit local and global projects," said Event Director Julie Maurer, treasurer of the Lake Orion Rotary Club. "It was fantastic. Overall, I'm very happy with how it all came together the way it was supposed to."
The Duathlon is a 5-kilometer run, then a 10-kilometer bike ride, topped off with another 5-kilometer run and Orion residents took the top three spots.
Alexander Pollack of Lake Orion won the duathlon, posting the best times in each of the 5k races and the 10k mountain bike split. Pollack, 25, finished with a total time of 58 minutes, 29 seconds.
Paula Antoniou, 44, of Lake Orion was the top female finisher and second overall with a total time of 1 hour, 12 minutes, 10 seconds.
Misty Godley, 25, of Lake Orion finished third overall with a time of 1 hour, 13 minutes, 43 seconds.
Proceeds from Duathlon (Run-Bike-Run) support the Beds for Kids program and the club's local community service projects.
"Everyone I spoke with loved the course, they thought it was challenging and beautiful and fun," Maurer said, adding the Rotary Club hopes to host the race again next year.
"We learned a lot and had a lot of great input," she said. "We're talking about how we can make it better and get more community involvement."
Holy Spokes, the North Oakland Community Coalition and Love INC all showed up for the duathlon to support the event and Maurer hopes to get more groups involved.
"That's what it's all about. We're raising money to do cool things and helpful things in our community, but to have all these different groups come out and be a part of a fun day, that just adds more value to our community," Maurer said.
The 2nd annual Cajun Seafood Festival – artistically prepared under the direction of Rotarians Marc and Monica Vezina – raised funds to provide medical equipment and support for a children's hospital in Cartagena, Colombia, the Rotary Club's international project. The children's hospital provides free services to families who cannot afford the medical bills.
The Seafood Festival offered guests a taste of true Cajun cooking, with seafood boils, shrimp and crawfish flown in from Louisiana to go along with the traditional Jambalaya.
"Being a part of Rotary is a really fun way to be involved in our community and way to feel like we're giving back," Maurer said.
The Lake Orion Sunrise Rotary Club meets at 7:30 a.m. the first, second and fourth Thursdays of the month at CJ's Sandbar on Broadway Street in downtown Lake Orion.
Guests are welcome to attend, get to know the club members and learn about joining.