A guest column by Molly LaLone, Lake Orion DDA executive director
What do we need? MORE PARKING! Where do we need it? DOWNTOWN! Who wants it? WE DO! When do we want it? NOW!
If there were a cheer squad for downtown matters, this would be the cry heard through downtown Lake Orion, complete with green pom poms and side splits from those agile enough. Parking is the reason the Lake Orion Downtown Development Authority first started looking at the Lake Orion Lumberyard property.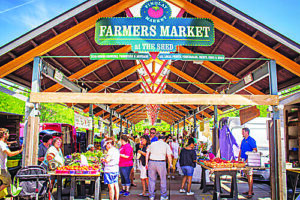 According to a 2022 parking study, we are providing just enough parking. A recommendation from the study is to increase the physical parking supply within the next three to five years. Clearly, in our mature, densely built village, the DDA needs to get creative to find the space for more parking. When the Lake Orion Lumberyard property became available, the DDA board immediately approached the sellers. The DDA has been completing the due diligence process.
When the land is purchased, the DDA plans to clear it, clean it and park it.
Then, it is the plan to create an attractive, showcase entrance to the village. The property will be used to attract visitors by creating visible parking, visible activity and beautiful and functional assets.
• Clean up Blight:
o Remove the buildings which are falling down,
o Create welcoming signage inviting visitors to downtown
o Streamline entrances to create a safer intersection at M-24 and Atwater
• Event Space:
o When not in use, can be used for parking
o When in use, will keep the rest of downtown parking open
• Address environmental issues to keep them from leading to bigger problems in the future
• Enhance the existing non-motorized pathways leading into the downtown area
How will the DDA pay for the project?
1. With village council approval for the $5 million bond proposal
a. Paid for with funds already being collected
b. Current revenue is 2.3 times more than the expected annual debt payment. This means it will not cost village residents any additional taxes
2. With other funding opportunities
a. Seeking grants from county, state and federal sources
b. Considering private/public partnerships for a few mixed-use buildings
3. What about other village projects?
a. DDA can only fund projects within its district
b. 75 percent of new revenue will go towards village-directed projects within the district.
For more information, visit www.downtownlakeorion.org.