By Teddy Rydquist
Review Contributing Sports Writer
Fresh off their 38-37 upset victory over the Clarkston Wolves on Monday, the Rochester Adams Highlanders were riding high heading into their district semifinal matchup with the Lake Orion Dragons on Wednesday.
However, the Dragons had control from start to finish and defeated the Highlanders 58-42.
Lake Orion won both meetings with Adams this year. The previous meeting was back on Nov. 30 and was a 51-41 final.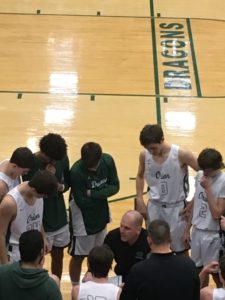 Lake Orion will next face Oxford on Friday at 7 p.m. at Lake Orion High School for the district championship.
Seniors Jake Rydquist and Nate Talbot were instrumental in the Dragons' victory over Adams. Rydquist hit two three-pointers and went 7-9 from the free throw line to finish with 17 points. Talbot was a force on the glass on both ends of the floor and added 15 points.
Junior Cam Sutton shared the primary ball handling duties with Rydquist and played well. Sutton limited the turnovers and chipped in nine points. Fellow junior Dylan Boedigheimer scored six points and helped Talbot on the glass.
Senior Jake Schuler led Adams with 12 points and freshman Gunner Walters pitched in 10 points.
After the game, coach Jim Manzo praised his team's intensity.
"I thought our desire was pretty good," Manzo said. "We beat them before, it was early, and they were missing two or three starters so that was not the same team you saw tonight."
It was important for the Dragons to come out with a sense of urgency and they certainly did. At times this year, the team has got off to slow starts and dug themselves deep holes early in games.
This was not the case on Wednesday night. Lake Orion led from start to finish, including holding a double-digit lead for the entire second half.
Lake Orion does not have long to bask in the glory of this victory though. Added Manzo, "Now we have a day to get ready and Oxford has won 20 games already."
The Oxford Wildcats handily beat Lake Orion at home 56-44 back on Jan. 15. This game came during a three-game slump for Talbot. He was held to three points in the first meeting and appears to be playing much better right now.
The Wildcats defeated Romeo 70-59 in a district quarterfinal on Monday. They then beat Waterford Kettering 57-44, prior to Lake Orion's victory over Adams.
Follow Teddy Rydquist on Twitter @TeddyRydquist.