Regional Champion Girls 4 x 100m and 4 x 200m Relays (from left) Maddie Slocum, Alayna Tisch and Natalie Keogh. Not pictured: Mecayla Long. Photos by Stan Ford.
Five girls qualifty for state meet on June 4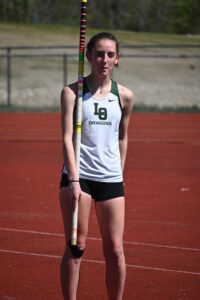 The Lake Orion High School girls track and field team traveled to Lapeer High School on Friday for the MHSAA Lower Peninsula Region 9-1, finishing in 2nd place with 79.5 points.
Carlie Knebl was regional champion in the pole vault. She will join her teammates Alayna Tisch, 2nd in the 100m dash, at the MHSAA Divison 1 State Meet on June 4 at Rockford High School.
Tisch will also be joined by Maddie Slocum, Natalie Keogh and Mecayla Long on the 4 x 100m and the 4 x 200m relays at the state meet. — M.K.