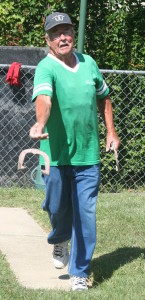 If it's the sound of "ringers" you are looking for, you are in luck with the oldest horseshoe club in the state of Michigan calling Orion home.
The Lake Orion Horseshoe Club, who hosted its first Money Tournament last Saturday, will be busy once again this weekend as they are hosting the States Doubles Tournament on Saturday, Aug. 13, beginning at 10 a.m.
According to club president Ron Price, about 55 teams and pitchers from Kalamazoo, Lansing and all over the state will be present to compete in the tournament.
"They come from all over the state," he explained. "Any place there is an active club."
The Lake Orion Horseshoe Club, which is nestled in downtown between the Orion Art Center and Children's Park, is hosting the tournament for the fourth year in a row.
While you are required to be a cardholding member of the MHPA and participate in one required tournament to qualify to compete at states, Price said spectators are always welcome to come watch the tournament and learn more about the activity.
"We'd love to have them," he added.
The Lake Orion Horseshoe Club has been active in Lake Orion since 1960, having spent its first five years at a location in Bunny Run, before moving to its current location at 160 S. Anderson Street in 1965.
More information about the club can be found on their website, www.pitchwithus.com/lake_orion. -C.S.