On Valentine's Day, nearly 100 St. Joseph middle school students created felt hearts and stuffed them with toiletries to help poor and homeless people in the Detroit area.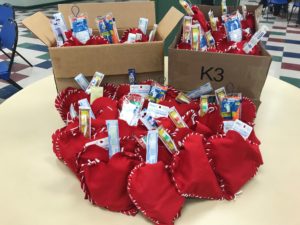 The project was organized by middle school teachers Kris Fuhr, Lindy Cubba, Debbie Grimm, Carol Azizian, Lauren Galasso and Reem Mikha.
On Feb. 23, religion teacher Lindy Cubba, her children and their friends, along with members of the Following the Lord Our Way (FLOW) ministry at St. Joseph Church took 120 hearts to the P.B.J. (Peanut Butter and Jelly) Outreach, a nonprofit organization, who will distribute them to the needy in Detroit.
The organization unites volunteers and equips them to prepare and distribute food, clothing, and other items. — C.A.