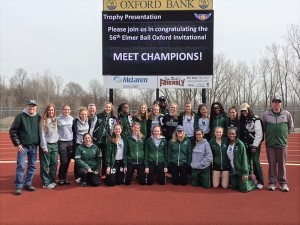 The Lake Orion girls track and field team won the championship trophy at the Elmer Ball Track and Field Invitational at Oxford High School on Saturday, beating out 24 other teams to take home the title.
The Dragons scored points in 13 of 17 events during the meet. The score in the top eight places in each event count toward the team total, and the top six places received a medal.
The Dragons captured first place commandingly with 108 points, beating out perennial state power Oak Park, which finished second with 88 points, and third place Birmingham Seaholm's 81 points.
The Dragons high flyer Colleen Campbell led the team in scoring with 23 points, placing first in the pole vault with a new school record and current number one vault in the state of 12 feet even. She also placed second in the high jump and fourth in the long jump.
The 4-by-800-meter relay team of Sophie Novak, Allison Sherman, Josie Arnold and Ciara Nolan set the school record at 9:36.64 minutes, finishing second to a state-ranked Oak Park squad.
Sprinter Madison Eaton placed third in the 100m hurdles and fourth in the 100m dash. Teammate Melissa Symons placed fourth in both the 100m and 300m hurdle races. Novak finished second in the 800m run and Sherman placed third in the 3,200m run.
The Dragon's jumps crew followed Campbell's lead with Heather Desamper placing third in the pole vault and fourth in the high jump. Sarah Griffin finished fourth in the pole vault and fifth in the long jump.
The 4-by-100m relay team of Makayla Allen, Eaton, Griffin and Shantel Stanley placed third. The 4-by-200m relay team of Allen, Stanley, Peri Keifer and Symons placed fifth, while Symons, Arnold, Nolan and Rendia Smith finished 4th in the 4-by-400m relay
The Dragons have a home meet Wednesday against Rochester Adams and a meet at Waterford Mott on Saturday. – S.C.