Erin Humes (in white) takes a draw against Troy.
By Jim Newell
Review Editor
It's been a challenging season thus far for the Lake Orion High School girls varsity lacrosse team.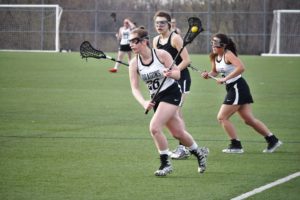 On Wednesday, the team lost 18-5 to Troy High School, the fifth-ranked team in the state. The Colts outshot the Dragons 2-to-1 and controlled the momentum of the game.
But what the coaches, the fans and their opponents noticed during the game – there's no give in these girls. The Dragon defense continued to battle against the Colts and the attackers scored two of their goals late in the first half and two more in the second half.
"I was proud of our girls. They never gave up," said head coach Christine Mudalige.
Mudalige is in her first year coaching at Lake Orion, moving to the area from Tennessee where she coached middle school girls lacrosse team to back-to-back league championships. She's also a former player, a goalie, and played for a while Lafayette College in Pennsylvania.
Joining Mudalige on the sideline are assistant coaches Marta and Maria Davila. The sisters played lacrosse at Lake Orion and Maria is a freshman on the lacrosse team at Oakland University.
But this is a program that knows success, winning division championships in 2014 and 2015 and MHSAA D1 quarterfinal appearances in 2015 and 2016.
Mudalige wants to get the team back to that stature.
The team dropped to a 1-6-1 overall record with the loss to Troy. Lake Orion defeated Huron Valley 9-5 on March 25 and followed that up with an 8-8 tie against Notre Dame Prep. They also play in one of the tougher regions in the state.
The 20-member squad has only two seniors but 11 juniors, six sophomores and a freshman goalie, Paige Walker, who shares the net-minding responsibilities with junior Makayla Osborne.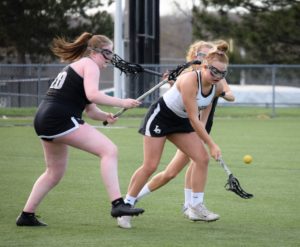 "It's a young team. Most of the girls haven't played together," Mudalige said. "It takes time to get used to things. I have a different style than what's been used (here) in the past. They're really coming together as a team, which is what I've been striving for."
Mudalige's approach is for the team to keep a positive attitude, support one another and continue to improve. She believes in constructive feedback, not just criticism. One of her proudest moments is when, after a game, an opposing coach approached her and told her that the team was the most respectful and nicest teams on the field.
That doesn't mean the team isn't competitive, even with each other.
"We use competition as the essence of practice to stoke that competitive spirit," Mudalige said.
Senior Captain Erin McGraw couldn't play for a while because of concussion protocol, but still played a big role on the sidelines.
"She's a huge part of our attack and a leader on and off the field," Mudalige said, adding that junior Captain Paige Lagerquist is "the core of our defense and Ellie Baldwin is a "firecracker" who comes out of nowhere to score goals.
Allison Romanski, who had four goals against Troy, currently leads the team with 25 goals.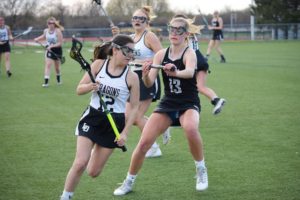 A couple of areas where Mudalige has seen improvement is in goal and in winning draws, the "faceoffs" in lacrosse.
Erin Humes, who played on the varsity basketball team, has stepped up to take the draws.
"She's a big draw-taker and is a big part of us winning more draws," Mudalige said. "The goalies have really stepped up in big ways."
The team still has a challenging season ahead, with home games at 7 p.m. Wednesday against Bloomfield Hills and then at 7 p.m. Friday against Midland High School.
And the Dragons will continue to focus on growing and facing those challenges.
"My goal is to keep fostering growth and everyday getting better, as individuals and as a team. We look at what we do well and what we need to improve. At the end of the season, my goal is for every player to say, 'I started here; look how far I've come," Mudalige said. "I think sports teaches so much more than just the game."