The Lady Dragons had a packed week of OAA White game play giving them an opportunity to improve their current record.
First, the ladies traveled to Troy Athens High School to take on the Red Hawks for a second time.
In their first meeting, Lake Orion dominated the game scoring their first OAA White victory.
This time around, the Dragons found themselves down four players from the start.
The ladies dug deep with several Lake Orion players having to play out of position all night.
The Dragons clamped down on defense keeping Athens scoring in the single digits in all four quarters.
The ladies hit their stride in the second quarter and carried it through the rest of the game defeating the Red Hawks 42-29.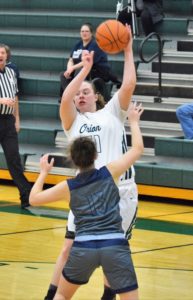 Sophia Wyborski led the Dragons with 12 points and seven rebounds followed by Paytin Shadaia with 10 points, 11 rebounds and five steals.
Also chipping in for the Dragons were Meaghan Marshall with seven points and Erin Humes with five points.
On Feb. 20, the Dragons hosted Rochester Adams.
The ladies started out strong but were unable to keep up with the Highlanders and were defeated by a final score of 51-40.
The Dragons were led by Marshall, who scored 10 points and had four rebounds. Wyborski added another eight points and seven boards, while Shadaia contributed seven points, four rebounds and seven steals.
In their final game of the week, the ladies took on the Avondale Yellowjackets on Feb. 22.
Avondale is currently second overall in the OAA White division.
The ladies found themselves fighting from behind after being outscored in the first three quarters.
The ladies lost the game with a final score of 50-39.
These games put the team at 7-11 overall and 3-9 in the OAA White.
The ladies head to Farmington High School on Tuesday to take on the Falcons in yet another OAA White match-up. — M.K.