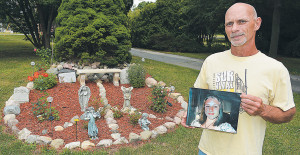 By C.J. Carnacchio
Leader Editor
A wooden monument created by a local chainsaw carver as a touching memorial for a father's deceased daughter was stolen in broad daylight in Brandon Township July 6.
A giant peace symbol (see below) honoring the late Taylor Beth Woityra was taken from the yard of her father Christopher Woityra, who lives at 3100 S. Sashabaw Rd.
"It about killed me," said the 48-year-old man. "That means everything to me."
The monument was stolen sometime between 3:30 and 5 p.m.
It was carved by Gary Elzerman, whose work is very well-known in the Oxford area.
"It's not surprising. I get a piece or two stolen every year," Elzerman said. "But for him, it's a big deal. It was his only daughter."
Taylor, who attended Lake Orion High School, passed away on September 10, 2014 due to complications stemming from her treatment for Hodgkin's lymphoma. She was 21 years old and had just given birth to a baby girl, Lachlan, in December 2013.
Her death broke her father's heart.
Woityra described his daughter as a "very loving" person who wasn't afraid to speak her mind and who immediately grabbed everyone's attention when she walked into a room.
He recalled how much she loved her newborn daughter.
"That baby never left her side until it got to the point where she couldn't take care of her," Woityra said.
Elzerman, who's been friends with Woityra since their school days – both are 1985 Lake Orion graduates – recalled his talks with him throughout his daughter's battle with cancer and after her death.
"His heart was ripped out his chest when she died," he said.
"I don't even know how to explain the hurt that he felt. It's his only daughter. I couldn't even imagine."
Following her passing, Woityra commissioned Elzerman to sculpt a memorial monument in the shape of his daughter's favorite symbol.
"She absolutely loved peace signs," Woityra said.
Elzerman recalled Woityra wanted the biggest peace sign he could make.
His first attempt wasn't large enough.
Then, Elzerman got his hands on a log that measured 42 inches in diameter. From that massive piece of wood, he used his chainsaw and considerable artistic talents to fashion Taylor's monument.
The monument sat on a bench in a special garden Woityra made to honor his daughter. He used rocks, woodchips and flowers to create a garden in the shape of a peace sign.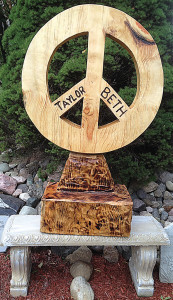 A plumber by trade, Woityra's real passion is gardening.
"I'm always in the garden, from the time I get home from work until I can't see anymore," he said.
The wooden monument was the crowning touch to his outdoor tribute.
"Every time I walked out my door, I looked at it," Woityra said. "It's all about my daughter."
Creating a duplicate of it is easier said than done.
"I can't replace that piece," Elzerman explained. "For me to find another log that size is almost impossible."
Elzerman doesn't understand how someone could do something like this.
"What a crazy world we live in. Who can steal something and then actually sit there and enjoy it?" he said. "That's always dumbfounded me. It's got her name on it."
"It makes no sense," said Elzerman, adding that Woityra's "got enough tragedy in life" already without "some idiot" adding to it.
"My heart goes out to him."
Woityra has one simple request – "I just want it back."
If whoever stole it, simply returns it to his home, Woityra promised he will not press charges.
"If you don't bring it back and you get caught with it, I will prosecute you to the fullest," Woityra warned.
Elzerman made the same offer. He's asking whoever stole it to leave it at his studio, located at 1674 S. Baldwin Rd., no questions asked.
"I sure hope it gets returned," he said.
To whoever stole the monument, Elzerman advised it's better to return it than risk criminal prosecution, the possibility of which is very strong.
"Somebody's going to find out," he said. "You're going to get caught. Just please bring it back."