By Jim Newell
Review Editor
When customers enter Dutton Farm's farmhouse store, there is a special aura that permeates the environment, that is palpable in the warmth, the farm, the store and the farmers.
Certainly, the farm is quaint in the nostalgic sense of an old-time country shop; the friendly "How are you today?"; the décor, the animals on the grounds, the goods for sale.
The updated technology – the credit card reader and cell phones – doesn't detract from the feeling. The farm also has an online store at www.duttonfarm.org.
Dutton Farm in Roch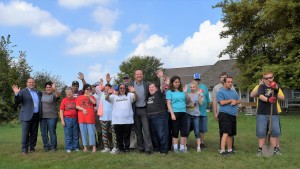 ester is a special place because of the farmers, who enthusiastically greet each visitor as they enter, offering assistance and directing customers to their products with pride.
The farm is managed and run with love, dignity and inclusion. Everyone is welcome.
Dutton Farm, a nonprofit organization formalized in 2010, provides work opportunities for adults with physical, mental or emotional impairments to enhance their lives.
Dutton Farm founder Michele Smither said that after her oldest daughter, Rose, who has Down Syndrome, graduated from high school, she and her husband began researching opportunities for Rose.
"We have other children and they have options, but she had nothing. It just wasn't okay. So, we decided to start (a farm) on a piece of property we owned and to open it up to people with special needs who were out of school.
"There are so many (adults with special needs) who stay home all day and do nothing. There are so many without jobs, without things to do. We provide that here: we get people out into the community into employment. We employ them here if that's something they want to do. But we turn nobody away. Anybody with special needs who needs somewhere to go, Dutton Farm is welcoming, and open and we make it work."
"Everybody has value and everybody has something to offer. Sometimes we miss it in our desire for efficiency," Smither said. "Hopefully, we bridge that gap between school and community and employment and the things we all can do. I think that sometimes people forget that the opportunities aren't available for everybody, and they should be," Smither said.
Orion Township Supervisor Chris Barnett visited Dutton Farm on Sept. 20 to shoot a segment for ONTV.
"It's really remarkable. These young people come to work here. They have a purpose, they have jobs and they're important," said Barnett.
Jenny Brown, Smither's daughter and co-founder of Dutton Farm in Rochester, manages the farm and has made it her life's work to help those with special needs.
"I have a sister who's 42 and she has Down Syndrome. After she graduated high school the options for her were pretty minimal, so my mom and I founded Dutton Farm for her. But it has spilled over to a lot more people," Brown said. "We teach job skills, employment and find jobs for people who have disabilities."
The farm currently has 35 farmers who work at the farm in various capacities, from collecting eggs, feeding animals and working in the production workroom making goods.
Many of the items are what one would expect in a farm store, like eggs, honey, apple butter, garden-fresh vegetables.
But the Dutton Farm farmers also have a workroom where they produce scented soaps, bath salts, body lotions and balms, sugar scrubs, scented candles. Dutton Farm also has its own line of swag: hats and t-shirts, travel mugs, water bottles and insect repellent.
Dutton Farm is at 2270 Dutton Road in Rochester, east of Brewster Road (a mile east of Adams Road). Dutton Farm sells its products onsite, at the Made in Michigan store on Baldwin Road in Orion Township, Bush's Grocery Store, Yates Cider Mill, Rochester Cider Mill, Med Center Pharmacy, Vinson's Medical and other area locations.