The Lake Orion men's varsity track and field team took first place at the 58th Elmer Ball Oxford Invitational at Oxford High School on Saturday, while the Dragon women's team finished second.
The men's team finished with 175.5 points, beating second place Oxford, 133 points, by more than 40 points.
"Depth was the key as the men only won two events," said head coach Stan Ford," junior Stephen Brown in the 100m Dash and Sophomore Caleb Jones in the Long Jump, with Caleb jumping a personal best of 20-feet, 8-and-a-half inches."
Junior Joey Owczerak was second and sophomore Donovan Blackwell was third in the long jump, both jumping personal bests for a total of 20 points in one event, Ford said.
In the men's Discus, the Dragons scored 18 points, with senior Drew Knieper (2nd place) and junior Jonah Fix (3rd), both setting personal bests, and Freshman Nick Eaton, finishing in fifth.
"The same three in the Shot Put scored 16 points, only Nick Eaton was 2nd, Drew was 3rd, and Jonah was 7th," Ford said.
"There were several other great efforts with runners getting personal bests. Senior Nicolas Laurent was 2nd in the 1,600m run with a 4:32.82 (minutes) effort. Junior Clayton Kuiper ran a 4:45.41 for 3rd, and Sophomore Eddie Cromwell ran a 4:49.05 for 6th, with the three earning 18 points for the team," Ford said.
Senior Carson White was 4th place in the 800m Run with a time of 2:08.81 minutes. White was also in the 3,200m Relay that took 2nd place, along with juniors Will Houvener, Clayton Kuiper and Jacob Corless.
Junior Hong Bing Tang was 3rd in the 3,200m Run with a personal best of 10:08.01. Sophomore Jeremy Parks was 3rd in the High Jump with a personal best of 5-feet, 8-inches.
Women's Team – 2nd Place
The Lake Orion varsity women's track and field team finished in second place overall with 151 points, just behind Oxford's 175 points.
"The women won three events on the day with senior Sophie Novak in the 1,600m Run, junior Bella Montorosso in the Pole Vault and senior Cate Leonhard in the 100m Hurdles," Ford said. "Cate scored a total of 31 points in her four events; 1st in the 100m Hurdles, 2nd in the High Jump, 2nd in the Pole Vault, and 4th in the Long Jump."
Montorosso was 3rd in the Long Jump and 5th in the High Jump for a total of 20 points. And Novak was 2nd in the 800m Run for a total of 18 points for the team.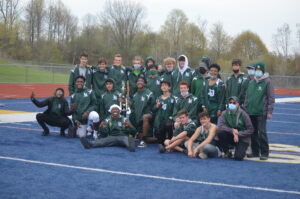 The 3,200m Relay Team of freshmen Lauren Dumeah and Maddie Feurig and seniors Iris Meech and Alexa Mathes took home 2nd place honors.
Lauren Dumeah, later in the 1600m Run, set a personal best of 6:08.1 for a seventh place finish.
Freshman Sophi Sally was 2nd in the 300m Hurdles and, along with sophomore Cadence Teasley (3rd in the 200m Dash), sophomore Ella Spiers and junior Macayla Long, were on the 800m Relay together, finishing fourth.
"Freshman Eileen Guenther joined Macayla, Ella, and Cadence in the 400m Relay that took 2nd place," Ford said. "The Women's Pole Vault was dominated by the Lady Dragons, taking the first four places. Bella Monterosso, Cate Leonhard, Anna Pheasant and Carly Knebi scored a total of 29 points in one event!"
Other schools participating included Bloomfield Hills, Avondale, Dearborn Divine Child, Farmington, Madison Heights Lamphere and Byron.