By Shane Stockwell
Review Contributor
Lake Orion hockey picked up two important wins this past week against OAA Red opponents Farmington Hills United and Berkley.
The Dragons shutout Farmington on Thursday night by a score of 4-0. Goalie Jack Barker picked up the shutout, stopping all 14 shots he faced.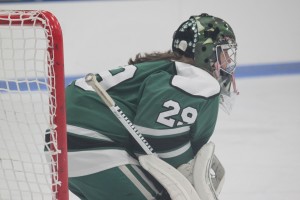 TJ Hirschfield scored a pair of goals in the second period to open the scoring for LO. Jacob Helzer assisted on both the goals, giving him seven assists on the season.
The Dragons added two more goals in the third to put Farmington Hills away for good.
Conner Graham scored early in the period and Josh Frketich netted one late as Lake Orion picked up their 7th league win to keep the Dragons in the hunt for first place in the division.
On Saturday night Lake Orion had to fight a little harder to pick up their 8th win, overcoming Berkley by a score of 6-3.
Berkley came out firing on all cylinders and took a commanding lead early. The Bears scored the first goal of the contest and had the Dragons scrambling to find an answer.
LO answered late in the first period off a redirection goal. TJ Hirschfield ripped a shot on the power play and Gabe Potyk got enough of it to catch the Berkley goalie off guard.
In the second period, Berkley got two quick goals and had Lake Orion on their heels.
LO's steady power play responded once again off a nice quick release from Conner Graham. Moments later, Potyk popped in his second of the game to tie the game at 3, and that is how the second stanza would end.
The third period was all Lake Orion. Frketich scored off a slick wrist-shot from the top of the circles to open the third. Two minutes later Potyk completed his hat-trick scoring five-hole on a semi-breakaway.
The Dragons 6th goal was scored by Lucas Barber, his first of the season in his 10th game with the team after being called up from JV.
Jack Barker picked up his 11th win and the Dragons now sit alone atop the OAA Red Division.
This Thursday the Dragons play Rochester United with first place implications on the line. The game will be played at the Detroit Skating Club at 7:45 pm.