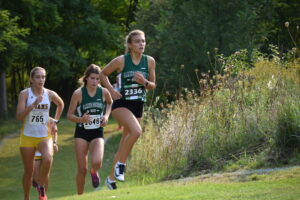 By Jim Newell
Review Editor
The Lake Orion Dragons varsity girls cross country team put up a valiant effort but lost 37-21 (low score wins) to Rochester Adams during a dual meet at Lake Orion on Sept. 16.
Coach Debi McDonald said that she sees progress in her young team and that brings hope for this season and future seasons as the runners develop.
"I see a lot of progress. I see that a lot of them have dropped some time from last week. We are running most of our meets at home – which is a challenging course. So, they haven't gotten to work a lot on speed," McDonald said. "I want to work more on speed, and that's going to come, but we just have to be patient with the process."
There are several bright spots for the Dragons, who are 0-2 after losing to the Oxford Wildcats in a dual meet on Sept. 9.
While Rochester Adams' Amanda Soldan won the girls 5K race with a time 20:23.9, senior Sophie Novak, the Dragon's top runner, finished in third place with a time of 21:06.2.
Novak is also one of the best runners in the state. Last year she finished 13th in the MHSAA Lower Peninsula Sate Meet and is pushing herself to better that mark.
Against Adams, freshman Mackie Shoskey and Megyn Fox continued to put in good performances: Fox finished in fourth place overall at 21:26.6, while Shoskey finished in eighth at 21:45.6.
Annika Russell rounded out the Dragons top 10, finishing 10th with a time of 22:34.2. Lauren Dumeah (11th, 22:46.7) and Alexa Mathes (15th, 23:28.9) also ran well for Lake Orion.
McDonald said she's building on the girls' foundation and the runners will continue to develop and focus more on speed over flat distances in the week leading up to their next meet.
"I see each week that they're getting stronger and adding more mileage to their weekly mileage. We're just happy that we get this opportunity to race," said McDonald, who has been coaching for 20 years.
Novak took first place against Oxford, but was disappointed in her third-place finish against Adams.
"We run on our course like four or five times and every time I think the hills are going to get easier. It just comes out of nowhere. Unfortunate race today, I'd say," Novak said. "I wanted a faster time, but I think it's just tired legs or something. I had higher goals for myself today, but I wasn't really feeling it today. It happens."
Novak, who is her own worst critic, reached the 40-mile mark last week and continues to push herself to better her times each week.
McDonald has been working with her star senior by finding ways to challenge Novak individually during meets, including having time goals per kilometer and hitting a specific pace.
"Last week she didn't have any competition. This week she did," McDonald said. "We did try a new focus on how to race today's course. We didn't really get to practice it, we just said, 'Here's our plan, let's try it out.'"
"I'm sure that I'm going to come out next time and try to redeem myself," Novak said, adding that her goal is "to just race better every day and, at least with this course, try to improve. And with today's time it won't be too hard to run faster, so that's good."
Lake Orion will have five dual meets this season – all of the Jamborees, invitationals and larger meets were canceled for this season – and is waiting to hear from the MHSAA about the possibility of postseason meets.
"I'm really hoping the bigger meets happen – league (meet) and regionals – and those are on pretty flat courses so I would like to drop some time," she said. "Last year I broke 18 (minutes) by one second, so I'm hoping to get close to that, that would be really great.
"I'm just glad we have the opportunity to race. So, I think I'm just going to have fun with it for my last year," Novak said.
The Dragons next dual meet is 4:30 p.m. Sept. 23 against Troy at Lake Orion High School. The team then runs against Clarkston at 4:30 p.m. Sept. 28 at Clintonwood Park.