By Megan Kelley
Staff Writer
CLARKSTON — Lake Orion ignited the Clarkston High School field house last week during the MHSAA District 6 varsity girls basketball championship competition, walking away with the program's second district championship in two years.
The Dragons received a bye in the first round and faced Waterford Kettering in the Semi-finals, dominating the Captains with a decisive 70-19 victory and punching their ticket to the district finals to face the Clarkston Wolves.
Despite Lake Orion being the favorite to win, and having defeated the Wolves twice in the regular season, it was a close match with the Dragons managing to pull out a win, 54-52.
Clarkston set the pace early on winning the jump and proceeding to score the first basket of the game. Lake Orion answered back with two three point shots to put the Dragons in an early lead. The rest of the first quarter consisted of what seemed like endless back-to-back scoring, with the first quarter ending in an 18-18 tie.
Into the second quarter, the Lake Orion ladies were able to pull away just a bit with several more three point shots to end the half with a four point lead on the Wolves, 28-24.
The start of the second half had the Dragons hungry to put the game away, with the girls going on a scoring streak halfway through the third quarter. But Clarkston bounced back, answering the Dragon's run by dropping several of their own points late in the quarter to come within five points of Lake Orion, 48-43 at the end of the third.
With the lead, the Dragons slowed down the pace a bit in the fourth and final quarter, passing the ball and choosing their shots carefully. With less than a minute on the clock, to gain possession, Clarkston began fouling to force the Lake Orion team to earn their extra points as well as give the Wolves the opportunity to get the ball.
After a nail-biting final quarter, and a missed, nearly full court, final buzzer shot from the Wolves, the Dragons won their second district championship in two years 54-52.
Despite the close game, Lake Orion had some outstanding performances, specifically from senior Audrey Wischmeyer who drained seven threes that night and received a fervent chant of "MVP" from the Lake Orion student section.
One of the more interesting stats of the game was Lake Orion's three point percentages.
"We made 13 threes, we only made two two point baskets that game, we only scored two times inside the arc and then we hit 11 free throws," said head coach Bob Brydges. "I had seven kids make threes, so that was big."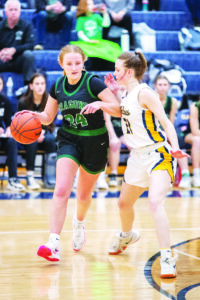 Other highlights include senior captains Kylie Heck with nine points, Maddie Ebbert with eight points, Chloe Wiegers with five and Taylor Dinda adding another three. Additionally, Ryann Pawlaczyk dropped another four points, Grace Sullivan contributed three and Jodie McCaffery added one point.
"Winning the district is very nice. The game against Clarkston, you know, any time you have to play somebody three times, it's tough. That was what happened with us last year when we beat Rochester. We played them three times and beat them on the third try," Brydges said. "The Clarkston game was unusual because in the third quarter we actually opened up a 16 point lead on them and then we had four minutes where we just kinda started turning the ball over a bunch and not getting good possessions and not getting stops on offense. So, kudos to them, they played really well down the stretch. But, fortunately for us we were able to open up a seven point lead with a couple minutes to go and then we were able to hold the ball for a little bit and make them come out of their zone."
Though this was their third time playing Clarkston, it was also the closest game they've had against the Wolves, who Lake Orion had beaten 35-25 and 56-46 during their regular season.
"We thought it might be a little closer but when we got up 16 I thought, 'okay, we're going to put this away' because we've been really good at putting teams away. We just couldn't put them away. We made a lot of uncharacteristic mistakes and rushed some things," Brydges said. "Fortunately, we had a big enough lead to hold them off. They were relentless down the stretch, give them credit, they played tough down the stretch and pushed us to our limit but we were able to hold them off."
This is the second district championship Lake Orion has won in two years and the Brydges's second in his four seasons as head coach. The team also has nine graduating seniors, many of which were on the team last year when the program earned its first district win since 2009.
"Last year was unexpected. We weren't supposed to be there. This year, the roles were reversed. We were the hunted this year. We were expected to win that district. We were picked by a lot of people to win that district. So, not only getting the win but beating your arch rival, in their building, for a district final – I think was particularly sweet," said Brydges.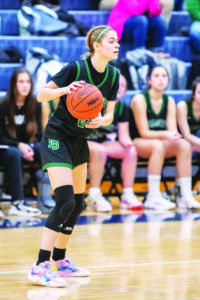 Lake Orion's next stop is the Region 2 semi-final against Howell in the Lake Orion field house on Tuesday after Lake Orion Review press time.
Howell and Lake Orion have a similar record heading into the regional semi-finals with Howell sitting at 18-6 while Lake Orion's record is 19-5.
"Playing Howell is going to be like playing ourselves. They're athletic, they're quick, they're not big, they don't have a ton of height. So, I actually think it's going to be a great match up, we put together what I think is a pretty good game plan, now it's about who executes it better on Tuesday," Brydges said. "I think both teams have a chance to win that game."
The winner will head to the Regional finals on Thursday where they will likely take on the 22-2, reigning champs of the OAA Red and favorite to win: West Bloomfield, who takes on Rochester in the semi-finals on Tuesday night.
Photos by Larry Wright