To register for Dragon on the Lake events, visit www.dragononthelake.com.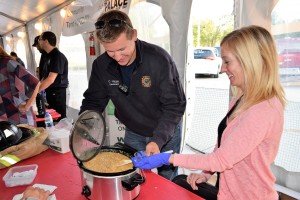 The firefighters' Chili Cookoff is from 4:30 – 7:30 p.m. on Thursday in the Dragon Pub. Help the Orion Twp. firefighters best their rivals from Oxford and Rochester Hills. The department with the most votes wins and proceeds benefit the firefighters' 9/11 Memorial fund. LOR archive photo.
By Jim Newell
Review Editor
The Orion Art Center's 10th annual Dragon on the Lake festival returns this weekend with several new events highlighting this year's activities.
Event organizer and Art Center board member Alana Hart said preparations are progressing for the opening of the festival, which begins on Thursday and concludes on Sunday
"Dragon on the Lake is the Art Center's largest fundraiser, but it's also about recognizing all of our other community partners and all coming together to provide something for the Lake Orion community," Hart said.
The Art Center has added several new community groups and activities to the mix this year, like the Lake Orion Horseshoe Club's euchre tournament, the Knights of Columbus bingo tournament and the four chambers of commerce mixer.
"We wanted to add some excitement and round out the festival better and partner with all of our community (groups)," Hart said. "Dragon on the Lake is really about the community, arts and dragons. When it started, it was about fundraising for the Art Center, but it also was about bringing the community together. We felt that the best way to do that was to include all of these groups.
"And we wanted to bring other communities to Lake Orion to say, 'Look at what we offer, look at what we do and welcome to our festival,'" Hart said.
The festival in downtown Lake Orion runs from 11 a.m. – 7 p.m. on Saturday and 11 a.m. – 6 p.m. Sunday and features the merchant's market, local artists, street performers and food vendors.
Thursday
The festival kicks off on Thursday with a four chambers of commerce mixer – Orion, Oxford, Rochester and Auburn Hills – in the Dragon Pub (in the municipal lot next to Children's Park off Anderson Street) from 4:30-7:30 p.m.
There's also an ice cream social with 20 Front Street Creamery in the Dragon Pub.
After the mixer is the 105.1 Bounce Dance Party, open to all ages, from 7:30 – 10:30 p.m., with DJ Jinx.
New Events
New this year is the Dragon Tiki Tent on the corner of Anderson and Front streets, the hot spot for several activities.
The Art Center's first Beer & Wine Tasting is from 6-9 p.m. on Friday. Local restaurants like Fork n' Pint, Valentino's, Achatz Handmade Pie Co., Silver Spoon and Italia Gardens will offer up their cuisine, while HomeGrown Brewing Co. and Wine Social provide beverage samples. Tickets are $30 per guest.
The 1st Dragon on the Run 5k is Saturday, with registration beginning at 7:30 a.m. in the Tiki Tent, race time at 9 a.m. and awards at 10 a.m. Participants get a t-shirt and medal. Registration is $35 until Aug. 24. Day of registration is $40.
The Knights of Columbus host bingo from noon-6 p.m. on Saturday, and the Sporcle Trivia competition is from 6-8 p.m.
'Concerts on the Wall' are from 8 p.m. – 12:30 a.m. Saturday in the Tiki Tent.
On Sunday, The Friends of Camp Agawam host a breakfast fundraiser from 10 a.m. – noon, and the Lake Orion Horseshoe Club euchre tournament is from noon – 4 p.m.
The Michigan Cornhole Co. tournament is from noon – 6 p.m., with competitive and amateur divisions and cash prizes.
Returning activities
The always-popular Chalk Art Competition returns, giving area kids and artists a concrete canvas right on the streets of Lake Orion to create their best masterpieces. Prizes are awarded to the top three creations in best of theme (dragons), best of show and youth categories. Side walk is chalk provided, but people can bring their own chalk or pastels as well.
The Lake Orion Lake Association's Lighted Boat Parade begins at 8:50 p.m. Friday. Watch from Pelton's Point or Green's Park.
Music in the Dragon Pub
Rockstar, an 80s tribute hairband, takes the stage on Friday, and the Square Pegz perform on Saturday. Both concerts are from 8:30 – 11:30 p.m. $4 cover.
There also will be an 80s-themed prom from 6-8 p.m. on Saturday.
Dragon Boat Races
The Dragon Boat Races begin with opening ceremonies at 9:30 a.m. and races starting at 9:45 a.m. There is a jet ski show in front of Pelton's Point at 11:45 a.m.
A flower ceremony begins at 12:15 p.m. to celebrate the lives of cancer survivors, offer hope to those still battling the disease and honor those who have lost their fight.
The Dragon Boat award ceremony is 6 p.m. on the main stage in the Dragon Pub.
The Dragon Boat races also will be broadcast live on the video wall on Sunday, for anyone who wants to relax in the Tiki Tent and watch the races, Hart said.
"You can't have a drink over in Green's Park, but you can have a drink here watching the boat races."
Kidz Zone
The Kidz Zone is in The Lake Orion Review parking lot on Broadway Street, near Shadbolt Street, during festival hours on Saturday and Sunday.
"A big change this year, the Kidz Zone has moved to downtown Lake Orion," Hart said. "We listened to our vendors and we moved it downtown hoping to stir things up for local businesses and for our venders at the event. We're really excited about having it downtown."
Firefighters will have a "smoke house" for kids, teaching them about escape plans in case of a fire, the stop-drop-and-roll procedure and other fire safety tips. The Lake Orion police will have fingerprinting available for kids, along with their quad/ATV vehicles for the kids to try sit on.
Great Lakes Kids Energy Zone returns to the Kidz Zone, and kids' archery is new this year.
Art Tent
The Detroit Institute of Arts and Home Depot will be in the art tent on Saturday, and Goldfish Swim School and Gilda's Club are in the tent on Sunday providing creative activities for the kids. The art tent is in The Review parking lot.
Volunteers
While preparations are going well, the festival still needs plenty of volunteers. There is a "Volunteers" link on the Dragon on the Lake website that will take anyone who wants to help out to a SignUpGenius page.