The Lake Orion Varsity Wrestling team crushed 14 other Michigan wrestling teams, earning a first place title at the Bad Axe Hatchet Invitational on Jan. 14.
Individually, junior Chris Kade (wrestling at 160 pounds) and sophomore Jaden Fisher (145 pounds) both took first place and won their weight class with records of 3-0; Kade by a 3-1 decision, and Fisher with his third of an all-day-pin streak.
Juniors Noah Smith (135 pounds) and Tyler Vestrand (171 pounds) and senior John Moll (125 pounds) had second place finishes.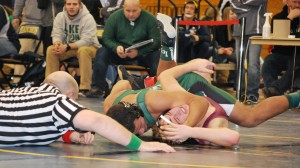 Sophomore Hunter Chambers (285 pounds) placed third. Junior Dylan Frank (189 pounds), sophomores Donovan Luebbert (119 pounds), Dylan Wellbaum (140 pounds), and freshman Kane Felarca (130 pounds) placed fifth in their weight divisions.
Junior Josh Jones (152 pounds) and freshman Griffin Dolland (125 pounds) placed sixth.
On Jan. 11, the Dragon wrestlers faced off with the Rochester Falcons at Rochester High School.
Jaden Fisher, Dylan Frank and junior Andrew Finn-James (215 pounds) won with a pin.
Tyler Vestrand tech-falled his opponent, while John Moll and Noah Smith won by decision.
The final score of the match was Falcons 42, Dragons 29.
The Dragons travel to Clarkston High School Wednesday, January 18 for a quad meet with Clarkston, Rochester and Rochester Adams.
– By Rebecca Moll
Review contributing writer