The Lake Orion's boys varsity cross country team has qualified for the state meet, and the the varsity girls team is sending two runners to the state races after both teams had quality finishes at Regionals.
"The Men's Cross Country Team, by virtue of their second place finish at the Regional Meet, have qualified for the State Meet Saturday, November 5," said Head Coach Stan Ford. "The top three teams qualify out of the 15 teams competing."
Senior Michael Jarvis, who finished third at Regionals, and sophomore Ryan Mulcahy, who finished 14th, were individual medalists, leading the way for the Dragons.
Jack Everts, Matthew Mulligan, Andrew Nolan, Matthew Junkin and Justin Keppler rounded out the team, and all will be representing Lake Orion at the State Meet, Ford said.
The Women's team finished fifth and were able to qualify two runners by placing in the top 15 at the Regional Meet.
The girls varsity cross country team finished in fifth place overall on Saturday at Regionals at Anchor Bay High School.
While the girls were not able to qualify for the state meet as a team, qualifying as individuals are sophomore Allison Sherman and freshman Emily Leipold, said Head Coach Deborah Mcdonald.
Sherman took home third place honors, and was followed by Leipold, who was in 11th place.
The top 15 individuals qualify for the state finals on Saturday at MIS.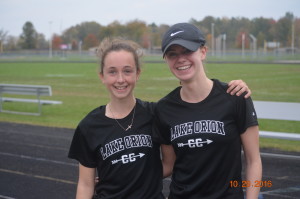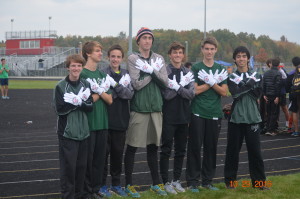 Left to right, Justin Keppler, Ryan Mulcahy, Andrew Nolan, Jack Everts, Michael Jarvis, Matt Mulligan and Matt Junkin. Photos provided.