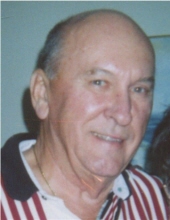 By Jim Newell
Review Editor
Orion Township businessman Donald Milosch built a used car dealership into one of the top 100 Chrysler dealerships in the world.
He was known for his entrepreneurial spirit, commitment to family and friends and community involvement.
Donald Milosch, born March 9, 1927 and a resident of Oxford, died April 12. He was 91.
He was a veteran of the U.S. Navy and met his beloved wife, Geraldine, while stationed in Newfoundland. They were never apart again until her death on Feb. 26, 2017. Theresa "Gerry" Milosch was one of the founding members of the Oxford Pregnancy Center.
Milosch received his entrepreneurial skills, according to the family, from his father, Joe, an auto dealer in Lake Orion since the early 1920s.
After graduating from Wayne State University with a bachelor's degree, Milosch opened Don's Used Cars in 1960 – a lot reminiscent of the era, with a dirt lot and light bulb strings above the cars.
The business succeeded and in 1967 Milosch received a Chrysler-Plymouth franchise. In 1973 the family added Dodge to the business.
Milosch, along with his sons – Don Sr., Mark and Brian – continued to grow the family business and built the company into Milosch's Palace Chrysler Dodge Jeep Ram.
Milosch's Palace opened in early 1997 with a huge showroom, service area, separate used-car wing and body shop. Today, the business is run by Don's sons and grandson, Don Jr.
Milosch's Palace is recognized as one of the top Chrysler franchises in the world and in 2016, Crain's Detroit Business magazine listed the company as 97th out of the top 200 largest privately held companies in southeast Michigan.
Don Milosch was preceded in death by his parents, Joseph and Pauline; brothers Bob and Joseph; and his grandchildren, Jeffrey, Jill and Maria.
He is survived by his brother Dennis (Mary Ann); children Lynne (Timothy), Donald, Mark (Patricia), Kathleen (Brian), Brian (Cheryl), and Julie (Stephen); 29 grandchildren, 20 great-grandchildren and one on the way.
Milosch was a member of the Lake Orion Lions Club and each year Milosch's Palace hosts the Christmas for Everyone charity auction with the Lions Club, raising funds to support the Lions Christmas Basket program.
Milosch and his family also have supported area athletic teams and school yearbook clubs, as well as raising donations for charitable causes throughout the community.
Milosch was a member of the Lake Orion Chamber of Commerce, Right to Life, American Legion, St. Joseph Catholic Church, Legatus, the Detroit Automobile Dealer Association, the Michigan Auto Dealers Association, the National Rifle Association and the Riverbend Association.
He received numerous professional awards, including the National Educational Dealer Award. Last year, Don received the Chrysler Prestigious 50 Year Award.
Don was greatly admired by his peers for his honesty and "straight talk." He loved to travel the world, but his true passions, the family says, were his cabin and sailing on his boat, the "Lucky Gerry."
A funeral mass is planned for 1 p.m. Tuesday, April 17 and instate time of noon at St. Joseph Catholic Church in Lake Orion.
The family will receive friends during visitation until 9 p.m. on Monday at the Modetz Funeral Home – Silverbell Chapel in Orion Township.
Internment is at Ridgelawn Cemetery.
Suggested memorial donations can be made to St. Vincent de Paul, care of St. Joseph Catholic Church, 715 N. Lapeer Rd., Lake Orion, MI 48362.
Condolences and remembrances may be left at an online guestbook at www.modetzfuneralhomes.com.