St. Joseph Catholic School students proudly display the letters they're sending to sailors aboard the USS John C. Stennis, an aircraft carrier deployed in the Indian Ocean. Photos by Jim Newell.
By Jim Newell
Review Editor
Everyone likes getting mail (the good kind, at least) and writing it can be just as fun, especially when writing letters to U.S. service members stationed far from home.
On Feb. 11, second graders in Kim Klozik's class at St. Joseph Catholic School in Lake Orion wrote letters to sailors aboard the USS John C. Stennis, an aircraft carrier deployed in the Indian Ocean.
Lily said she liked writing to the sailors, "'Cause it's fun, it's nice."
Lily's friend, Evelyn, liked writing the letter, too, and it gave her a chance to practice her cursive writing and "thank the soldiers for serving our country," she said.
The kids' letters thanked the sailors for "keeping our country safe" and included questions about what it was like to be on board a ship: "Do you have a TV on the ship?" "Do you like baseball?" "How many people are on your ship?" "What do you do for fun?" and, simply-stated, "You are awesome!"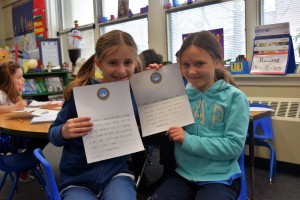 "The kids like doing service-related things. We talked about what it might be like to be on a ship and be so far away for so long," Klozik said. "And we talked about what's it like to have their parents go away for just a few days, and how the kids of service members must feel."
It was also a chance for the students to work on their cursive handwriting, which they began practicing in December, Klozik said.
"Developmentally, it's good for them to practice cursive. The nice thing about this program is that even if you weren't taught cursive, you would still be able to read it," Klozik said.
After the sailors get the kids' letters, "Then they'll send digital responses back to the kids so they can look at them," Klozik said.
The letter-writing campaign is part of Supporting Our Sailors at Sea, a national effort organized by Learning Without Tears and VetAdvisor, which provides integrative care for veterans.
Thus far, more than 500 classrooms across the U.S. are participating, said Christine Cuccia of Learning Without Tears, which provides developmentally appropriate instruction for handwriting and keyboarding in grades K-5 and preschool.
The effort is in conjunction with National Handwriting Day, Jan. 23, the birth date of John Hancock, who is well-known for his large, exhibitionistic signature on the Declaration of Independence, Cuccia said.