By Jim Newell
Review Writer
The Orion Area Chamber of Commerce held its annual Impact Awards ceremony Dec. 1 to recognize area business leaders who have made a significant contribution to the Orion community.
The Impact Awards were created to give recognition to chamber members who have made a positive impact on the Orion community.
The process began in September when the chamber began taking nominations. Chamber Executive Director Kim Urbanowski said the chamber received twice the number of entries as the year before.
Orion Twp. Supervisor Chris Barnett said he has traveled to many communities through Michigan and has not seen the level of community activity from businesses in those communities as there is in Orion.
"This doesn't happen anywhere else. We are really extremely blessed to have a strong business community, a strong DDA (Downtown Development Authority) and a strong chamber that gives so much to the community," said Barnett, who is also a chamber board member.
The six awards were Business Person of the Year, the Youth Impact Award, the Community Beautification Award, Entrepreneur of the Year Award, the Economic Impact Award and the Aspiring Entrepreneur of the Year Award.
The awards ceremony was sponsored by Matt Pfeiffer, owner of Northern Flooring and Interiors.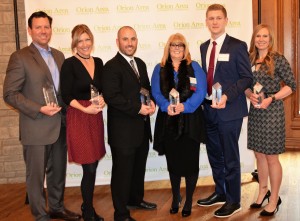 2016 Business Person of the Year
Drew Ciora, owner of Lockhart's BBQ, won the Chamber's highest honor, receiving the Business Person of the Year Award. The award was sponsored by Golling Buick GMC.
"I'm incredibly proud of our winner this year, this being his first year in the community and all he's done," Pfeiffer said.
Three years ago, Ciora approached Barnett and said he wanted to bring Lockhart's BBQ to Lake Orion. Ciora invested in and renovated the old village offices and police station on Flint Street, opening Lockhart's just over a year ago.
"I think that what Drew has done there is nothing short of remarkable," Barnett said.
Lockhart's recently won best BBQ restaurant, best waitress (Sarah), best chef (Lucky), best catering, best new business and best ribs in The Lake Orion Review's Best of the Best annual community survey.
"Even though my name is on this award, there's no way we could be where we are without the people around us at Lockhart's," Ciora said. "A group like the Chamber has been a fantastic champion for our business and for all businesses in the area."
Entrepreneur of the Year Award
Dana Mosure-Judge, owner of Oakland Sports Chiropractic, received the Entrepreneur of the Year Award, sponsored by Dawn Neely of Seniors Helping Seniors
"On a personal and professional level, I have a great deal of respect for her…I can honestly say she's straightened me out," Neely said.
Mosure-Judge opened her business two years ago, joining the chamber and getting involved right away, Neely said.
For Mosure-Judge, opening her own business may have required a tremendous amount of work, but the support she received compelled her to succeed.
Mosure-Judge's husband, Scott, found the money and space for her to open Oakland Sports Chiropractic and began telling people his wife was opening a business before she actually had opened.
"I think we all know that successful business is not one person, it's a team of people," Mosur-Judge said, thanking her patients, family, friends and business community. "You are what gives me joy and passion for what I do. Everyone here is willing to be the best they can be."
Youth Impact Award
Patti Charette, North Oakland Community Coalition received the Youth Impact Award, sponsored by Kellie McDonald, owner of The Goddard School.
Charette is the outreach coordinator for the North Oakland Community Coalition and the leader/mentor for the Lake Orion High School Teens in Action group.
"I'm so happy I met her last year. She's been such a positive role model," said LOHS senior Libby Cunningham, a member of Teens in Action. "She's passionate about helping youth and it shows in everything she does. She's the most caring person I've met. She's like a second mom to me."
Cunningham said that Charette was deserving of the award. "If I had to pick anyone I've ever met, she's the person I would give it to."
"In my mind, there is no greater work than giving back to our youth," McDonald said. "Patti really embodies what you think about when you think of someone giving back and giving to our kids."
Economic Impact Award
Brian Birney of The Birney Directive won the Economic Impact Award, sponsored by Christian Mills, local business and real estate developer.
The award is given to someone who has a significant influence on working, living and playing in Lake Orion.
Birney, who is the outgoing president of the chamber board and a township trustee, developed Lake Orion's American Summer to "get things going at the times where there were some gaps" between festivals and community activities.
"He wants to create a better place for his family, a better community and it shows," Mills said. "Brian is a great friend of mine…there is no better family guy in our community."
"Everything I do is because of my family," Birney said. "I feel I'm so privileged to work with people here: you work hard, you play hard… and work to keep our community going. I love this community and I love everyone in it."
Community Beautification Award
Pam Omilian of API Consulting won the Community Beautification Award, sponsored by Dr. Dana Mosure-Judge.
When Omilian and her husband opened API Consulting Accounting, Bookeeping and Payroll Services, the building was an eyesore in desperate need of rehab.
Omilian said her husband picked out the property, and she was unsure if it would work after seeing it. She said she and her husband complement one another, so they began working hard to rehabilitate the property.
Aspiring Entrepreneur Award
Alex Chudzinski, 20, owner of Cracked Electronic Repair, won the Aspiring Entrepreneur Award, sponsored by Craig Zmijewski of AAA Craig Zmijewski
The Aspiring Entrepreneur Award goes to someone age 13-25 who invests in the future of Lake Orion and displays creativity.
Zmijewski said he asked Chudzinski to fix his flip phone, but was unsure if Alex could fix such "outdated" technology.
Chudzinksi started Cracked Electronics while still a teenager.
"He said, 'Sir, I can fix anything.' Here's an 18-year-old man who has the confidence that he can do anything and that's really what you need to have when you're a business entrepreneur," Zmijewski said.
Lifetime Achievement Award
Carl Cyrowski, owner of Cyrowksi Real Estate, won the chamber's first Lifetime Achievement Award.
"I couldn't think of anyone more deserving of this award…this person has served our community for 100 years, it seems like," Barnett said.
Besides serving in the chamber, Cyrowski is active in the Lake Orion Fireworks Association and other local activities such as the Greater Oakland Republicans.
Ambassador of the Year Award
Allan Nahajewzki of D&A Creative Group received the Ambassador of the Year Award.
"This year's Ambassador goes above and beyond to make sure the chamber members feel welcome, said Todd Daniels of Wealthpath Financial Advisors.
Board Member of the Year
Board Member of the Year went to chamber Vice-President Matt Pfeiffer for the second consecutive year.
The award began as a friendly competition between board members, an effort to get people to attend events and secure new sponsorship in the chamber, Birney said.
"This is a testament to how hard he works to get people involved," Birney said. "He's a great advocate for the community and a great advocate for businesses."
Pfeiffer and Northern Flooring also won the Best of Flooring for the ninth consecutive year in The Lake Orion Review's Best of the Best community survey. Northern Flooring recently held Design with a Difference fundraiser benefiting Dutton Farms, serving people with special needs.
"I am incredibly proud to be involved in the chamber and it's because of all the people you see here," Pfeiffer said. "Our true belief (at Northern Flooring) as a business is to give back to the community, to promote the community and promote our businesses."