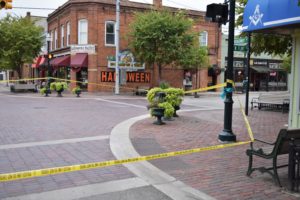 The intersection of Broadway and Flint streets is closed for maintenance while the Lake Orion Dept. of Public Works re-sands and seals the brick intersection, said Village Manager Joe Young.
Flint Street is closed from Anderson Street to Lapeer Street. Broadway Street is closed from Front Street to Shadbolt Street. Drivers will be detoured around the area.
Downtown businesses are open today. Pedestrians can use the sidewalks to walk to businesses but cannot enter the intersection, which is blocked with police caution tape.
The work is expected to be completed and streets re-opened by 2 p.m. today, Young said.