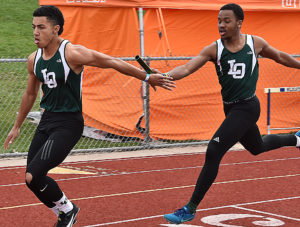 The Lake Orion High School boys track and field team won the Elmer Ball Invitational at Oxford High School on Saturday, earning 90 points in the victory and besting 18 other schools.
Senior Captain Thomas Moreman continued his winning ways by leading the Dragons to the Oxford Invitational title on Saturday. Moreman won both the 110m high hurdles and the 300m hurdles, the last of which was a personal best time and a meet record of 38.47 seconds.
The Dragons continued to score heavily in field events, racking up 48 of the team's 90 points.
Amaru Abdul-Raheem took first place in the long jump with a personal best of 21-feet, 1-inch. Savion McHenry came in seventh place for the Dragons, jumping a personal best of 20-feet, 4-inches.
Senior Zach Dinverno took home two second place finishes, one in pole vault and one in high jump. Nick Campbell finished third in pole vault, equaling his personal best, clearing 12 feet.
Senior Captain Sebastian Marku was second in the shot put and third in the discus, with Jesus Cruz taking eighth place in the discus.
Depth was also a factor in sprint relays. With Sam Knight and Caleb Campbell were out due to injuries, the remaining sprint crew held their own. The 800m relay team of Blaze Lauer, Sanai Pillot, Amaru Abdul-Raheem and Matt Freeman came in second with a season best time of 1:34:22 minutes. The same group teamed up for a third-place finish in the 400m relay.
Junior Andrew Nolan finished third in the 3,200m run with a season best time of 9:37:24.
– Stan Ford, Review Contributor