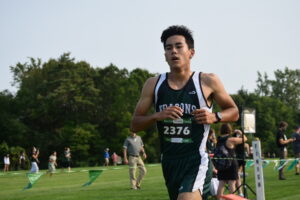 By Jim Newell
Review Editor
The Lake Orion Dragons varsity cross country team put up a valiant effort but lost 35-22 (low score wins) to Rochester Adams during a dual meet at Lake Orion on Sept. 16.
Coach Stan Ford has said he believes Adams is the team to beat in the OAA Red this season and with this victory, the Highlanders are now 3-0.
There are, however, several bright spots for the Dragons, who are 1-1 after defeating the Oxford Wildcats 37-22 in a dual meet on Sept. 9.
Lake Orion senior Nicholas Laurent won the boys 5K race with a time 17:07, 16 seconds faster than his nearest opponent. The win was also Laurent's first, first place finish in a dual meet. He finished in third place in the Oxford meet.
In all, four Dragons finished in the top 10 against Adams: Laurent in first; Will Houvener, sixth place (17:44.2); Adam Hafeli, seventh (17:44.2); and Luke Peardon, 10th (18:10.7). Jacob Gleason, 11th place, Hong Bing Tang, 12th, and Eddie Cromwell, 13th, rounded out the Dragon's top 15 finishers.
Though he's been training hard over the summer, Laurent experienced a little bit of a let down when he couldn't run track this spring. Getting his first dual meet victory is a nice reward for re-dedicating himself to a training regimen.
"It feels great. Honestly, when our track season got canceled (in the spring) I was feeling pretty depressed because I worked my butt off in the winter. I got a little lazy after that, playing too many video games, but I really grinded this summer starting in early May, running every day in the morning and it's really paid off," Laurent said.
Laurent has a personal goal this season to continue to bring his time down, but his primary goal is to see the team reach postseason competition, if possible.
"As a freshman I was horrible at cross country, but I put in the work every day," Laurent said, adding he hopes to continue dropping time, especially on a tough course like Lake Orion High School's course, until he reaches "the low 16s (minutes). On a really rough course like this, I think that should be good."
Regarding the postseason, Laurent is hopeful but realistic, given the pandemic.
"We'll see. We're not sure if we'll have a regional yet. Hopefully, we can make it to states, that's just the goal. I don't care if I win all these; if we get to states that's all I care about," he said.
Lake Orion will have five dual meets this season – all of Jamborees, invitationals and larger meets were canceled for this season – and is waiting to hear from the MHSAA about the possibility of postseason meets.
The Dragons next dual meet is 4:30 p.m. Sept. 23 against Troy at Lake Orion High School. Lake Orion then runs against Clarkston at 4:30 p.m. Sept. 28 at Clintonwood Park.