Questions regarding the program can be directed to Dawn Ames, Director of Family Ministry, Lake Orion United Methodist Church, 248-693-6201 ext. 210, or by emailing dawn.ames@lakeorionumc.org.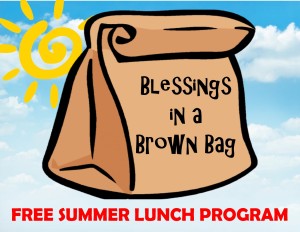 By Jim Newell
Review Editor
Many people may be unaware that in a relatively affluent community like Lake Orion, there are students who are in danger of food insecurity.
The Blessings in a Backpack – Lake Orion volunteer program seeks to help Orion students during the school, providing meals for youth over the weekend.
Now, the Lake Orion United Methodist Church wants to continue that support with Blessings in a Brown Bag, a program designed to provided lunches to students who need a little extra help throughout the summer.
But the church still needs donations and volunteers to help make the pilot program successful.
The program needs about $29,000 to provided lunches from June 18-Aug. 31, and applications are coming in right now from families who need assistance, said Dawn Ames, Director of Family Ministry at Lake Orion United Methodist Church.
"We've got a little less than half of the funds at this point to do the pilot program of 170 kids," Ames said. "Considering we've only been fundraising for a couple of weeks, I think it's pretty good."
The church also needs volunteers to help prepare, pack and deliver the lunches.
"It takes a village to do this," Ames said. "It takes a team of people. If people want to volunteer that would be great."
According to the Lake Orion Community Schools Food Service, more than 1,700 children who attend Lake Orion schools received reduced or free lunch during the 2017-18 school year, Ames said.
In addition, approximately 300 participated in the Blessings in a Backpack program.
"The Blessings in a Brown Bag program would function like the "Meals on Wheels" program for senior adults in which qualifying children would receive a brown bag lunch delivered to their house Monday – Friday," Ames said.
"Having the lunches delivered would solve transportation issues, which tend to complicate accessibility to the food. The church would target approximately 10 percent (170) of the reduced and free lunch population in the community," she said. "Meals would be prepared in a licensed kitchen and delivered to homes by adults that have received a background check. It is estimated that the cost for each child for the summer will be $170."
Any individual or organization that would like to donate money or sponsor a child or children at $170/child, can deliver or send cash or check to the church or donate through the Lake Orion United Methodist website at www.lakeorionumc.org, and follow the links, Ames said.
All donations are tax deductible.