Earlier this month on Feb. 8, Oakview Middle School hosted students from Oakview, Waldon and Scripps Middle Schools for the annual Lake Orion Community Middle Schools and Orion Township Public Library's 2019 Battle of the Books competition.
Teams comprised of three to six students raced to answer trivia questions about seven novels that were selected to showcase a variety of genres and reading levels.
Each team was given a laptop to answer multiple choice, short answer and true/false questions in Nearpod where they were timed.
Students showed their love for reading through creative book-themed costumes and team names.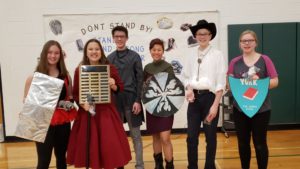 This years winners were returning champions, Oakview Middle School's "Clash of the Characters." Second place went to "The Cliff Hangers" and third went to the "Character Crushers."
Waldon Middle School took home the School trophy for being the school building with the highest average points per team.
"The competition seeks to highlight not only individual accomplishments, but also a sense of working together as a building," said Oakview Media Specialist Melissa Kempski. "All of the schools are immensely proud of all of their teams and were excited to share in this celebration of reading accomplishments." — M.K.