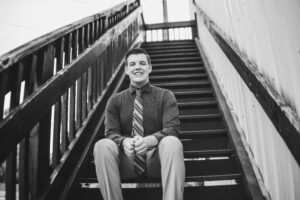 Parents: Jennifer and Matthew Ply
Grade: 12
GPA: 4.4
Favorite subject(s): Engineering and Math
Extracurricular activities: My favorite extracurricular is robotics.
Hobbies/Interests: Outside of school I enjoy playing video games and watching Star Wars.
Plans after graduation: After graduation I plan to pursue a degree in mechanical engineering and get a job in industry.
A.J. is proudest of: In my life I am most proud of my achievements at school and robotics, especially my involvement in obtaining a waterjet for Lake Orion High School.
A.J. makes a contribution by: I help make the world a better place through applying my engineering and design skills. Recently, I worked on a project that allows a woman with limited mobility to regain some of her independence through an attachment on her motorized wheelchair.
When A.J. thinks of the future: In 10-20 years, I see myself managing engineering projects and living in a house with my family in Michigan.
What concerns A.J.in the world: The world issue that concerns me the most is the climate crisis that threatens the future of this planet.
Favorite thing about Lake Orion High School: My favorite thing about Lake Orion High School is the wide variety of classes available for students to take.
Recommending Teacher: Mrs. Everitt