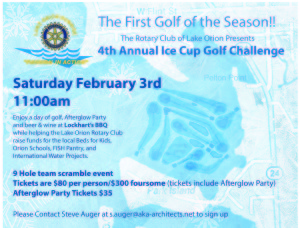 Grab the golf gear and head to the links on Lake Orion for the Lake Orion Sunrise Rotary Club's 4th Annual Ice Cup Golf Challenge beginning at 11 a.m. Feb. 3.
The first golf event of the year is a 9-hole team scramble over frozen fairways, icy greens and powdery roughs (or sidewalks). The course begins on Lake Orion, meanders through the village streets and finishes with an afterglow at Lockhart's BBQ.
Tickets are $80/person or $300 for a foursome and include the Afterglow Party. $35 for Afterglow Party tickets only.
The event raises funds for the Lake Orion Rotary Club's service projects, including Beds for Kids, Orion Schools, FISH Pantry and international water projects.
There are still sponsorship opportunities available, including a premier sponsorship opportunity.
For tickets and sponsorship information, please contact Steve Auger at s.auger@aka-architects.net.