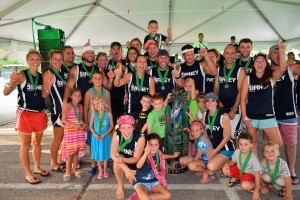 By Jim Newell
Review Editor
The Orion Art Center's 10th annual Dragon on the Lake Festival was a roaring success and was a true community event.
Event organizer and Art Center board member Alana Hart said the festival saw about double the attendance from last year, bringing in locals and people from outside the Lake Orion community.
"Dragon on the Lake is the Art Center's largest fundraiser, but it's also about recognizing all of our other community partners and all coming together to provide something for the Lake Orion community," Hart said.
The Art Center's added several new community groups to the mix this year, like the Lake Orion Horseshoe Club, the Knights of Columbus and invited four area chambers of commerce. The Lake Orion Sunrise Rotary Club and the General Federation of Women's Clubs – Lake Orion, the Lake Orion Lake Association, Friends of Camp Agawam, LOHS Lacrosse Boosters, the Village of Lake Orion and Orion Township also returned as community partners and helped out with activities.
"We wanted to add some excitement and round out the festival better and partner with all of our community (groups)," Hart said. "Dragon on the Lake is really about the community, arts and dragons. When it started, it was about fundraising for the Art Center, but it also was about bringing the community together. We felt that the best way to do that was to include all of these groups.
All of the groups volunteered their time and were able to raise proceeds from events to help with their organizations' charitable endeavors.
The Dragon Boat Races are always one of the biggest highlights of the festival and this year The Birney Directive Team brought home the trophy, beating the BYT CrossFit of Oxford and Draggin' Azz teams in the final race.
Team Captain Brian Birney said they were thrilled to win – the second time in three years – and return the trophy to Lake Orion. BYT won in a close race last year and finished second this year.
Lighted Boat Parade winners
Karen Frontera took first place with the "Groove Cruise" and received $300, a commemorative plaque and had her name added to the Lighted Boat Parade Trophy Cup. Who knew there was such a thing?
Don Papiez and Karen Leece took second place, $150 and a commemorative plaque for their boat, "Let's Flamingle."
Kirk Vogeler took third place, $50 and a commemorative plaque for the "Margaritaville" boat; while Dave Schuster received an honorable mention commemorative plaque for "Little Dragon."