By Jim Newell
Review Editor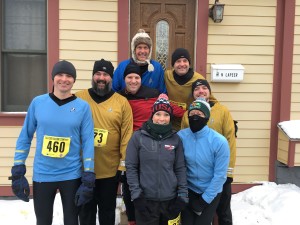 Frigid doesn't begin to adequately describe the sub-zero temperatures at the start of the Downtown Development Authority's annual New Year's Resolution Run but committed does, more than adequately, describe the 207 registered runners who showed up to start the year off on a healthy foot.
"I admire these runners. It is such a pleasure to spend the first day of the year with people who are committed to starting their year in a healthy way and doing something they love," said Molly LaLone, executive director of the DDA.
The 5k race course started at Flint and Lapeer streets and took runners and walkers through a scenic tour of the village.
And LaLone said dedicated runners will have another option – the DDA wants to include a 10k course in next year's race.
"I want to be able to take the runners down at least part of our Paint Creek Trail extension. We still have to work out the details and course and it will depend on the weather on how much of the trail we get to use," LaLone said.
Ann Marie Blaney, 24, of Rochester Hills was the top overall female finisher, running the 5k course in 17:37.8 (minutes, seconds, tenths-of-a-second) at a pace of 5:41 minutes per mile.
Trent Lusignan, 25, of Rochester was the top male finisher, completing the race in 15:41.6, a 5:04 minutes per mile pace. The top finishers received a gift card to Hanson's Running Shop for a new pair of shoes.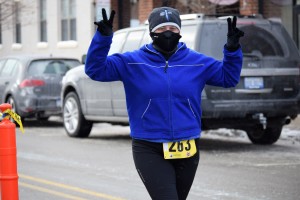 Sophie Novak, 14, was the top female Lake Orion runner, finishing the race at 21:39.6 minutes, while Stephen Biebelhausen, 22, was the top male Lake Orion racer, finishing at 15:56.9 minutes.
Julie Barnes Maurer of Orion Township was one of the runners who participated this year.
"I find it's just the best way to start a new year. I've been running it every year since 2011 and I can't break tradition now," she said. "(The cold) is pretty brutal, but I've been on a 40-day running streak, I've run everyday since Thanksgiving, so this is actually a warm-up compared to some of the running days I've had this past 40 days."
The number of racers was down from 350 last year. "And we can point to the weather," LaLone said, adding that it was 2 degrees with a wind chill of -11 degrees at the start of the race.
The event raises funds for the DDA's projects and programs and also included a silent auction with proceeds benefiting Blessings in a Backpack – Lake Orion, the races Run for a Reason charitable partner.
"We raised $225 for Blessings in a Backpack through the generous donations of items from our local merchants," LaLone said.
Fork 'n Pint served as the headquarters for this year's race registration and offered breakfast, coffee and a Bloody Mary bar for runners and spectators. "It was very nice to be at the new Fork 'n Pint. The people who had never been there before loved it," LaLone said.