By Joe St. Henry
Review Contributing Writer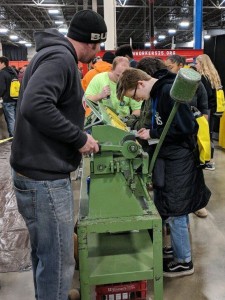 More than 100 students and chaperones from Lake Orion High School and the district's Learning Options High School visited MiCareerQuest Southeast in Novi last week to explore more than 125 occupations in advanced manufacturing, construction, health sciences and information technology.
In total, nearly 8,000 young people attended the Nov. 28 event, from 100 high schools across a six-county region, making it the largest such career exploration event ever held in the region.
Lake Orion High School CFE Coordinator Rosa Everitt said her students appreciated the employers and colleges willing to share their stories, advice and passion with those attending the event.
"Our students had a great time experiencing augmented reality, ultrasounds, brick laying, robotics and clay modeling, among other hands-on activities," she said.
Kristin Sliwinski, director of Learning Options High School, said she was surprised at the size of MiCareerQuest Southeast and the number of local companies there, excited to meet with students to discuss careers and occupations in so many fields.
Nearly 1,000 workers from companies, trade organizations and schools staffed the exhibits that featured a variety of hands-on, interactive exhibits.
"It was such an amazing event for our students," Sliwinski said. "They were engaged and left with a positive, enthusiastic mindset to work hard for their futures. I believe this event definitely had a positive impact on them."
Oakland County Michigan Works!, with the support of the Oakland County Department of Economic Development & Community Affairs, led the event planning. Jennifer Llewellyn, manager of workforce development, said she has received ecstatic feedback from everyone involved.
"Each day we work with companies, many of whom participated in this event, that are facing real talent shortages and are always looking for innovative ways to reach students," she said. "Everyone we talked to thought this was a great vehicle to introduce our young people to so many career opportunities.
"They could not believe how many kids came through the quadrants, engaged and loaded with good questions," Llewellyn added.
Event organizers said planning for next year's event has already started.