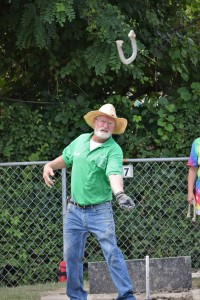 There were ringers and cheers, some groans after the near misses, but the state doubles tournament at the horseshoe pits in Lake Orion went off without a hitch on Saturday.
The Lake Orion Horseshoe Club hosted the Michigan State Doubles Championship on Saturday, with several Lake Orion players placing in the tournament.
There were 19 doubles teams competing in different divisions, based on combined ringer percentage, said Paul Bachelor, president of the Michigan Horseshoe Pitchers Association.
J.D. Drake and John Burns won the A division, the top division. But the victory did not come easy as they won the championship in a playoff against Lake Orion's Doug Bailey and Ron Price, who then took second place in state doubles.
Class B was won by Larry Budziszewski and Tom Gombos. Class C winners were Judy Dennis and Jacky Quillen of Lake Orion, and Class D winners were Tina Payne and Rose Nowacki.
"People got to see many of the best horseshoe pitchers in the state, along with many of the Lake Orion club players," said Ron Price, president of the Lake Orion Club.
To qualify for the state doubles tournament, participants must pitch in one tournament sanctioned by the Michigan Horseshoe Pitchers Association, Bachelor said.
"Lake Orion has hosted this tournament for 5-6 years now and they do an excellent job of preparing the site, preparing the courts, getting everything ready," Bachelor said. "They really do an excellent job and we're so happy to have them do it."
The Lake Orion Horseshoe Club is the oldest club in Michigan and has hosted the state doubles tournament for several years now.
The Michigan State Senior championship were played in Lake Orion for the first time on Sunday, Price said.
"Usually this championship event is played on a Friday night at the Michigan State singles, which will be in Kalamazoo on Aug. 25-26. Many of the Lake Orion horseshoe pitchers will also be competing in this event," he said.
In addition to hosting the state championships, Lake Orion also hosts the senior Olympics again this year on Aug. 15.
The Lake Orion Horseshoe Club's 15-week league season is soon coming to a close, but the members will be on the horseshoe pits on Tuesday evenings at 7 p.m. playing and practicing pitching.
"If you want to stop by and throw a few shoes or get some expert advice please do so," Price said.
For more information on the club, including becoming a member, visit the club's website at www.pitchwithus.com/lake_orion.