The Lake Orion Varsity Cheer Team cheered their way to the top and placed seventh at state finals on March 3.
This was the team's fourth consecutive year qualifying for the state championships and the 18th year overall in program history.
This year also marked the fifth district title in a row that the Lady Dragons brought home.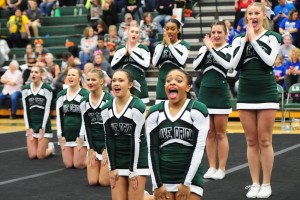 The Lady Dragons racked up a total of 778.48 points at the state competition, less than five points away from Rochester Adams, which placed fifth overall with 782.66 points.
"We had a few minor errors in the first and the second rounds that cost us in such a tight competition, but they came out very strong in round three and had a beautiful performance," said coach Nicole Hills.
There were also two other OAA Red teams that placed in the top ten at Friday's championship at the DeltaPlex Arena in Grand Rapids.
Rochester High School took home the championship trophy after earning 789.02 points.
Stoney Creek finished in fourth place with 783.10 points.
Hills added that the Lake Orion community should be very proud of their D1 teams.
"It was definitely one of the toughest State Finals I have witnessed, which made it really exciting and very proud to be a part of," said Hills. – G.T.