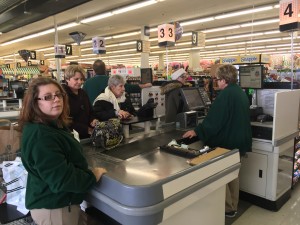 By Jim Newell
Review Editor
Hollywood Markets grocery store in Orion Township announced last week that it would be closing its Lapeer Road location after the grocery store chain and the owner of the plaza could not reach terms on a lease agreement.
And the announcement has many Orion residents distraught over the loss of a community favorite.
"The owners (of Hollywood Markets) and the landlord couldn't negotiate a new lease agreement," said Ryan Welch, store director of the Orion Township Hollywood Markets at 1101 S. Lapeer Rd.
There is no definitive closing date scheduled, Welch said.
"Our lease is up at the end of January," Welch said. "By the last day in January we have to be out. It all depends on how much product we sell through January. Our 25 percent off sale starts on Tuesday, so, it's kind of based on how much product we have on the shelves."
Hollywood Markets President Thom Welch said the company will miss being in Lake Orion.
"It's a great community and we love being there. We've enjoyed being in Lake Orion. We're a community store, a neighborhood store," Thom Welch said.
"It's unfortunate. I think the owner of the center (strip mall) is putting a plan together and we're not a part of it. That's unfortunate," he said.
Hollywood Markets won the 2017 Lake Orion Review's Best of the Best in the best grocery store and best produce categories.
"Right now, our primary concern is to find a place for the employees in our other stores," Thom Welch said. "People work with pride in that store and we helped out the community where we could."
Hollywood Markets – Lake Orion opened in its current location at 1101 S. Lapeer Road, just south of Clarkston Road, in 1997, replacing Farmer Jacks grocery store.
Hollywood Markets management notified its employees last week before the closing became public that they would not be renewing the lease agreement after Jan. 30.
"All of our employees are going to be offered jobs at our other locations," Ryan Welch said. "Lake Orion has been great to us. The customers are pretty much like our family. We're definitely going to miss the Lake Orion community."
Many residents loved that the family-owned and operated Hollywood Markets store focused on getting to know its customers while providing quality meats and groceries. Hundreds of comments in the Lake Orion Chat Room lamented the store's closing and, in true chat room fashion, lambasted the plaza's owners for not coming to terms and renewing Hollywood Markets lease.
See this week's View points on page 6 for a letter to the editor about the store's closing, and an ad from Hollywood Markets – Lake Orion in this week's Advertiser.
Barb Duff, a cashier at Hollywood Markets, has been in the location for 32 years – back when it was an A&P store, then Farmer Jacks and she stayed on after the Welch family opened Hollywood Markets.
Duff said the store's regulars are taking the news particularly hard.
"There are a lot of sad people, there truly are," Duff said. "It's like a funeral. There are some people who come here every day. It's a very family-oriented store."
Hollywood Markets has five other stores in Bloomfield Hills, Rochester, Troy, Madison Heights and Royal Oak, all of which will remain open.
John Welch, Sr., opened the grocery chains first store in 1924 in Detroit after returning home from serving in France during World War I, according to the Hollywood Markets website.
His four sons took over and expanded the business, opening Jay's Market in 1947. In June of 1950, the Welch family opened its first Hollywood Market on Campbell Road in Royal Oak.
Since the first store opened, Hollywood Markets has focused on offering "old fashioned customer service, a wide selection of high-quality meats, and the freshest produce around — all at reasonable prices."
On the web: www.hollywoodmarkets.com.