The Lake Orion girls varsity basketball team lost a tough, physical game to North Farmington on Thursday by a final score of 48-35.
It was Lake Orion's last game of the regular season. District play began Feb. 27, with the Dragons playing Waterford Kettering in the opening round.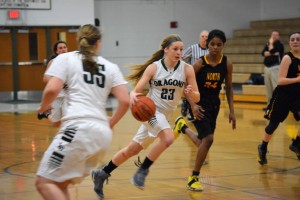 Lake Orion's Tessa Nuss led the Dragons with 8 points, while Shannon Falter scored six.
Delaney Bryce and Sydney Strenger each added four points, with nine Dragon players scoring during the game.
Lake Orion previously beat N. Farmington 34-31 on Jan. 21.
It has been a challenging season for the Dragons, who finish the regular season with an 8-12 overall record, a 5-5 league recored and third place in the OAA White division. — J.N.