By Susan Carroll
Review Writer
The Lake Orion Downtown Development Authority Board of Directors selected to award JKJ Partners, LLC with a grant not to exceed $22,000. The Historic Building Preservation Grant was awarded to JKJ for their work in preserving the character and history of 45 W. Flint St. The building is currently under construction to be the future home of Anita's Kitchen Lebanese Cafe.
"It is part of our gateway into town and it is a significant transformation to the building," said DDA Executive Director Molly LaLone.
The Historic Building Preservation Grant program is a function of the Lake Orion Main Street Design Committee, and was revamped in 2014 to support a targeted and larger scale approach to preserving commercial properties listed in the Nationally Registered Historic District.
LaLone said, "The DDA is excited that the society is honoring the ghost signs that were reveled on the sides of the building while in the renovation process of tearing off the siding. The signs add a nostalgic allure to the building."
A ghost sign is a hand-painted advertisement that has been preserved on a building for an extended period of time.
JKJ Partners, LLC has renovated two other historic buildings downtown, 27 E Flint St. and 27 S. Broadway St. They are currently renovating the second floor at the Broadway location into commercial offices.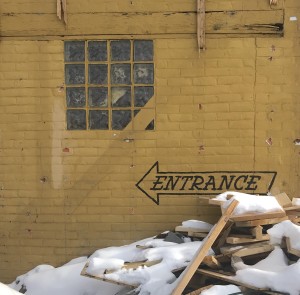 "I appreciate JKJ's passion not only for historic preservation but that they are willing to do it locally where they live and work," said LaLone.
There were three businesses that received the grant because their building remodel enhanced the charm of Lake Orion's downtown with their historic preservation, design and renovation. Those businesses were Hanson's Running Shop, Lucky's Natural Foods and 20 Front Street.
Grant applicants must adhere to the criteria from the Secretary of Interior Standards for Rehabilitation.
The Lake Orion DDA Board of Directors budgets for one annual Historic Preservation Grant award.
This grant program is a selective, competitive program designed to fund the preservation of targeted properties with significant historic integrity, allowing for potentially larger scale projects that will significantly impact the economic development of the downtown district.
The building was constructed around the 1870's. Originally built to be a private residence, it has gone through many facelifts being the home of a dry cleaner, a woman's resale shop and most recently the Celtic Cove Catholic Bookstore.
Anita's Kitchen has been serving Lebanese cuisine for over 25 years. The Lake Orion location will be their third restaurant.
They will serve lunch, dinner and drinks from their extensive menu, seven days a week. Both indoor and outdoor seating will be offered, as well as carry-out.
Their menu can be seen online at Anitaskitchenonline.com.
For additional information on theHistorical Builing Preservation Grant, contact Molly LaLone, executive director of the DDA, at 248-693-9742.