Special alert to business owners and financial institutions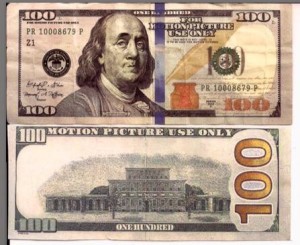 Someone is passing bogus money around the area and local authorities advise people to take a better look at what's in their wallets and purses and check the bills handed to them when they receive cash.
While the currency may seem kosher on first glance, Lake Orion Police Chief Jerry Narsh said someone recently passed a $100 bill with the words "Motion Picture Use Only" to a business in Lake Orion.
"Those who pass forged US currency will take extra steps to trick or conceal their action, such as folding it in half or waiting to make a purchase during a very busy time when cash clerks are rushed. Usually if one appears, there are more in circulation… or about to be," Narsh said.
The incident happened last week and since then another incident has occurred.
On March 12, a 16-year-old from Pontiac used a fake $100 bill to ask for smaller change at Basketball America on Clarkston Road in Orion Twp., said Lt. Dan Toth, substation commander of Orion Twp. Oakland County Sheriff's Dept.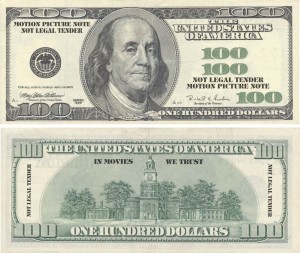 Narsh advises that employers inform their employees that unknown persons are peddling fake currency, and employees who handle cash from the public should be extra cautious.
"As you can see, this bill is clearly printed front and back that it is for "Motion Picture Use Only. On quick glance, the blue security ribbon gives it an appearance of authenticity, and during a rush to process customers, these bills can slip by," Narsh said.
"It is wise to inspect all paper currency before it is accepted or placed in a cash till. LOPD Investigators working with U.S. Secret Service have determined that there may be any denomination from $1 to $100 with the Motion Picture warning on them circulating in this area.
"Although this bill seems "obvious" please know that a good scam artist can trick an honest employee if not alert," Narsh said.
Local financial institutions will usually have a currency expert on staff to assist anyone who is a victim of a counterfeit bill. Narsh advises that anyone who has been given a counterfeit bill gather as much information regarding the passer as they can and call a police agency to investigate.
The U.S. Secret Service is working to install tougher restrictions and registration on these types of bills, Narsh said.
Anyone with questions concerning the validity of a bill, can find valuable information on how to verify currency by going to the U.S. Currency Education website, www.uscurrency.gov.
The Lake Orion Police Dept. non-emergency number is 248-693-8321, or the Oakland County Sheriff's Dept. Orion Twp. substation at 248-393-0090. – By Jim Newell