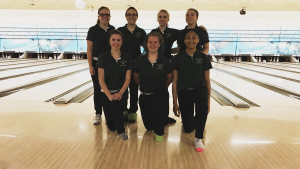 The Lake Orion Girls Varsity Bowling team attended the Division I State Finals on March 3, placed fifth overall.
The state finals were held at Sterling Lanes in Sterling Heights, with 16 total teams competing for the title.
All 16 teams played eight baker games; the eight teams with the highest pin totals moved on to the next round to compete for the title.
The Lake Orion Girl's qualified for the second round of competition with the second highest pin total of 3,147.
During the second round, Lake Orion's opponent was the Macomb Dakota Bowling team.
After two baker games, Lake Orion fell behind Dakota by 16 pins. In the 10th frame Lake Orion lost the game.
In the state singles competitions, senior Lexi Babicz finished in 32nd place and senior Hannah Mix finished in a tie for 43rd place in the Division I State Finals. — G.T.